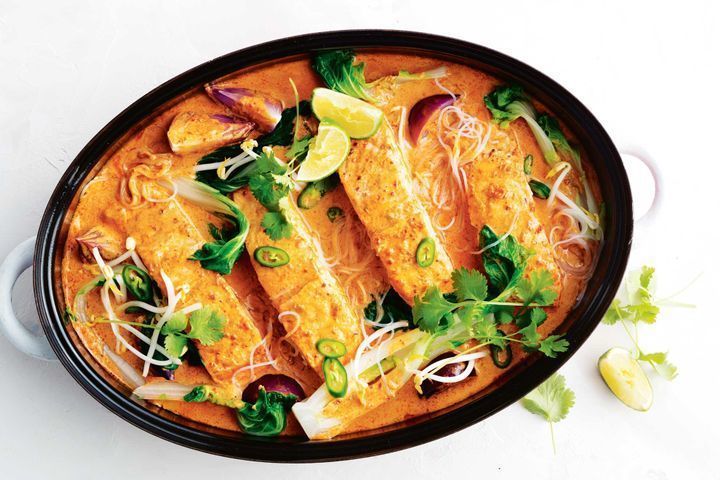 1 small red onion, cut into thin wedges
4 (about 180g each) salmon fillets
270ml can coconut milk
185g jar Malaysian laksa paste
60ml (1/4 cup) gluten-free chicken stock
1 large lime, rind finely grated, juiced
1 bunch baby bok choy, quartered
1/2 cup fresh coriander sprigs
55g (1 cup) bean sprouts
1 long fresh green chilli, thinly sliced
200g bean thread vermicelli, blanched, to serve
Lime wedges, extra, to serve
Prep. Time → 20 min
Cook Time → 15 min
1. Preheat the oven to 400F. Lightly grease a shallow ovenproof dish. Place the onion and salmon in the prepared dish. Place milk, laksa paste, stock, lime rind and juice in a large jug. Stir to combine. Pour the laksa mixture over the salmon and bake for 10 minutes.
2. Add the bok choy to the dish. Bake for a further 5 minutes or until the salmon is just cooked through and vegetables are tender-crisp.
3. Scatter the coriander, bean sprouts and chilli over the salmon. Serve with bean thread vermicelli and extra lime wedges.
main courses, fish, malaysian March 24, 2020 05:05
Author https://taste.com.au/recipes/no-f...
Share the recipe with your friends
No one has liked this recipe.
0 comments