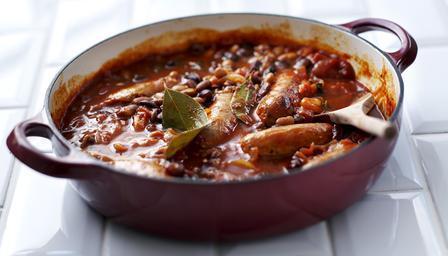 Ingredients
for 2 Persons
4 Large Leeks, 1 Tin of chopped tomatoes, a handful of Garlic, 3 large chopped onions, Tomato puree, A pint and a half of beef stock, 1 pound of quality beef or pork sausages, 6 large Carrots sliced generously, handful of frozen peas. Salt, pepper, Oregano (or Origarno if your a US person!) & basil. (sorry BAZIL)
Prep. Time → 20 min
Cook Time → 120 min
1. Dice your onions, skin some garlic cloves and in a large casserole pot add a glug of decent extra virgin olive oil, and let it heat up. Add the onions and garlic and let them sweat off a little.
2. Meanwhile, cut up your carrots and leeks into pretty large chunks and pop those in, put the heat on high and let them start softening.
3. Throw in a tin of tomatoes, and your sausages, which you should not of pricked but would of oiled slightly and seasoned separately.
4. Add your pint and a half (or whichever covers your casserole) of hot beef stock, (use a couple of Oxo cubes, that's fine) and season again with lot's of salt & pepper.
5. For me, its lid on time now, let it simmer & stew for an hour, then lift the lid, add a bunch of tomato puree and some mushrooms and then lid on, for another hour. Adding more tomato products makes the casserole more like a ragu, the sauce boils down and thickens almost into a jam which I find delicious. If you prefer your sausage casserole more 'gravy-esque' then don't add tomatoes.
6. Right at the end, season with some fresh herbs to lift it up, and serve inside a giant Yorkshire pudding and some gratin Duphanoise potatoes
7. A word on using RED WINE
8. There's no doubt by cooking off the sausages first in a red wine reduction over high heat and then starting with my first step, will give an extremely rich depth of flavour, so you can do that too.
9. You can add shit like Pinto/butter/mixed beans, Broccoli florets, brown sugar, and mix up the texture, but I find the simplicity and honesty of my recipe pretty fcuking awesome!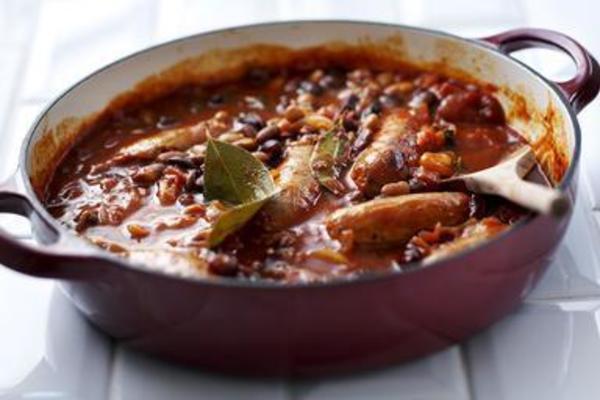 main courses, sausage casserole April 15, 2013 11:13
Author Mario De'Cristofano