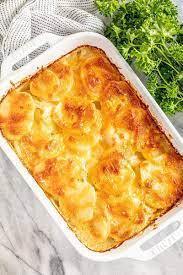 Ingredients
for 6 Servings
2 TBSP butter
3 TBSP AP flour
1 tsp salt
1/4 tsp pepper
1 1/2 Cups whole milk
1/2 Cup shredded cheese
4 Cups (approx 2 lbs) russet potatoes, thinly sliced (I use a mandolin)
1 Cup thinly sliced onion (I use a mandolin)
Prep. Time → 30 min
Cook Time → 60 min
1. Preheat oven to 350 degrees. Spray an 8" square baking dish with non-stick spray or grease with butter.
2. In a small saucepan, melt butter, stir in flour, salt and pepper and whisk until smooth. Gradually whisk in the milk. Bring to a gentle boil, stirring constantly, until thickened, about 2 minutes. Remove from heat; stir int he cheese until melted.
3. Place half of the potatoes into the prepared baking dish, then add half of the onion and half of the cheese sauce. Repeat the layers.
4. Bake in the oven, covered for 50 minutes. Remove the cover and bake until bubbly and potatoes are tender, approx. 10 - 15 minutes.
side dishes March 21, 2021 19:53
Share the recipe with your friends
No one has liked this recipe.
0 comments