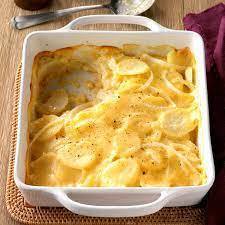 Ingredients
for 6 Servings
3 lbs russet potatoes, thinly sliced (I use a mandolin)
1/2 onion, thinly sliced (I use a mandolin)
9 TBSP AP flour, divided
6 TBSP butter, diced and divided
salt & ground black pepper to taste
3 Cups whole milk
Prep. Time → 30 min
Cook Time → 45 min
1. Preheat oven to 375 degrees. Grease a 9" x 13" baking dish (I use Pam olive oil spray)
2. Spread about 1/3 of the potato slices into the bottom of the prepared baking dish.
3. Top with about 1/3 of the onion slices.
4. Sprinkle 3 TBSP of the flour over the potato and onion.
5. Arrange 2 TBSP of butter atop the flour. Season the entire layer with salt and pepper.
6. Repeat steps 2 - 5 above 2 more times so you have a total of 3 layers.
7. Heat milk in a saucepan until warm. Pour enough warm milk over the mixture in the baking dish so the top of the liquid is level with the final layer of potatoes.
8. Bake in the oven until potatoes are tender 45 - 60 minutes.
side dishes March 21, 2021 19:41
Share the recipe with your friends
No one has liked this recipe.
0 comments