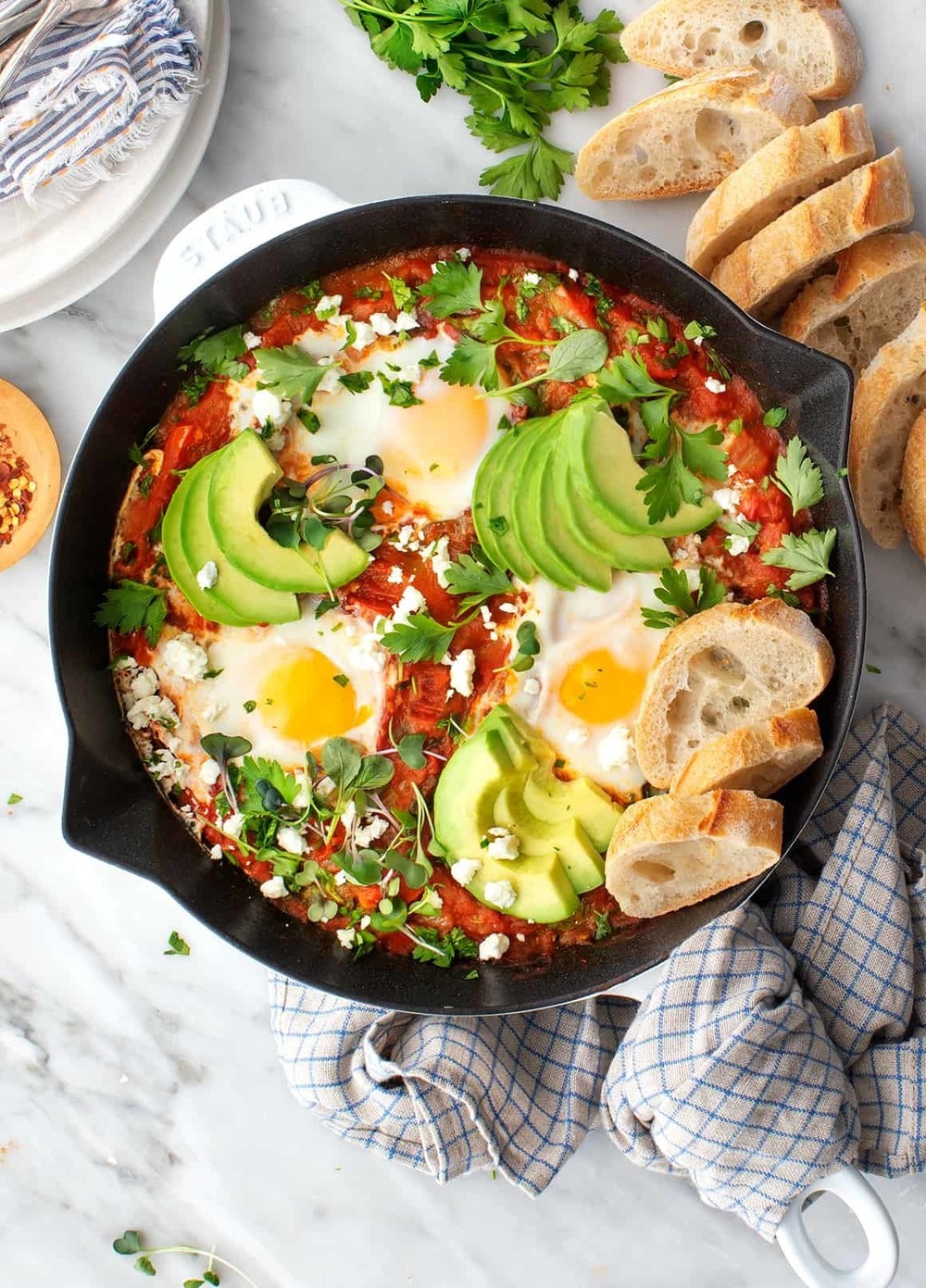 Ingredients
Splash of olive oil
1/2 lb breakfast sausage
2 tbsp unsalted butter
1 cup chopped onion
1 red bell pepper chopped or roasted red bell pepper
4 cloves of garlic, minced
2 tbsp tomato paste
1 tsp ground cumin
1/2 tsp paprika
28 oz diced fire-roasted tomatoes and their juice (can use canned whole peeled tomatoes and break them up)
can also add a big handful of spinach if you want
1/2 tsp salt
1/4 cup chopped fresh flat-leaf parsley (or more)
4 to 6 eggs
To Serve (optional)

sliced rustic bread, buttered and toasted on a skillet (this is delicious with it to soak up the sauce)
crumbled feta or grated parmesan
sliced fresh avocado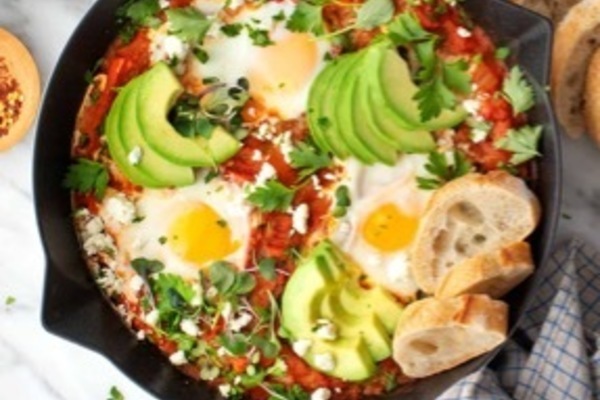 2. Place a large 12 inch NON-REACTIVE (so not the cast iron) skillet over med heat, add the splash of olive oil and the breakfast sausage. Saute 5 mins or until browned, breaking it up with a spatula, then transfer to a paper towel lined plate. Drain the grease from the skillet.
3. Melt in butter, add onion and red pepper and saute 4-5 mins until soft. Add garlic, tomato paste, cumin and paprika. Cook, stirring constantly, until fragrant, 1 min.
4. Add tomatoes, salt and half the parsley (spinach if using), reduce heat and simmer uncovered for 10 mins, stirring occasionally. Turn off the heat. Use the back of a spoon to make wells near the perimeter and crack the eggs into the wells. Sprinkle the cooked sausage around the eggs and the remaining parsley.
5. Carefully transfer the skillet to the oven and bake for 8 to 12 mins, checking often once you reach 8 mins. They're done when the egg whites are opaque and the yolks have risen bit but are still soft. Keep in mind they will continue to cook after you pull the dish out of the oven.
6. Butter the slices of rustic bread on both sides and toast in a skillet on the stove.
7. Using oven mitts transfer the hot skillet from the oven to a heat-safe surface. Serve in shallow bowls and top with the cheese and avocado (if using).
main courses February 15, 2022 19:20
Share the recipe with your friends
No one has liked this recipe.
0 comments