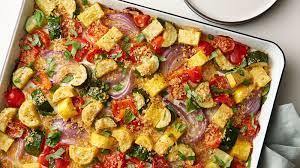 Ingredients
for 4 - 6 Servings
1 medium sized yam, peeled and cut into 1/2" cubes
3 TBSP olive oil, divided
1 tsp kosher salt, divided
3/4 tsp black pepper
1 family sized package of boneless, skinless chicken breast, but into bite sized pieces.
1 small head of broccoli, cut into florets
1 head of cauliflower, cut into florets
1 red bell pepper, cored and cut into 1/2" pieces
1 yellow or orange bell pepper, cored and cut into 1/2" pieces
1 zucchini, halved lengthwise, then cut into 1/2" thick half moons
2 1/2 tsp Lemon Pepper seasoning
2 1/2 tsp Italian seasoning blend
1 tsp garlic powder
1 tsp onion powder
1/4 Cup freshly grated Parmesan cheese
Prep. Time → 15 min
Cook Time → 35 min
1. Place a rack in the center of the oven and preheat to 400 degrees. Line a sheet pan with non-stick tin-foil or regular tin-foil and spray with cooking spray.
2. Place the yam pieces in a large bowl. Drizzle with 1 TBSP olive oil and sprinkle with 1/4 tsp kosher salt and 1/4 tsp black pepper. Toss to coat and then spread into a single layer on the baking sheet. Bake for 10 minutes, or until the yams are just beginning to soften on the outsides but too firm to eat.
3. Using the same bowl, place the chicken, and remaining vegetables into the bowl. Drizzle with the remaining 2 TBSP of olive oil. Add the lemon pepper, Italian seasoning, garlic powder, onion powder, remaining 3/4 tsp salt and remaining 1/2 tsp of pepper. Toss to coat.
4. Transfer the chicken and veggie mixture to the sheet pan with the yams, and spread them out as an even layer.
5. Return the sheet pan to the oven and bake for 20 - 25 minutes, stirring once halfway through, until the chicken is cooked through and no longer pink in the middle and the vegetables are tender but not mushy.
6. Sprinkle with Parmesan cheese and serve.
7. * You can omit the chicken and serve the veggies as a side dish *
main courses May 17, 2021 22:28
Share the recipe with your friends
No one has liked this recipe.
0 comments