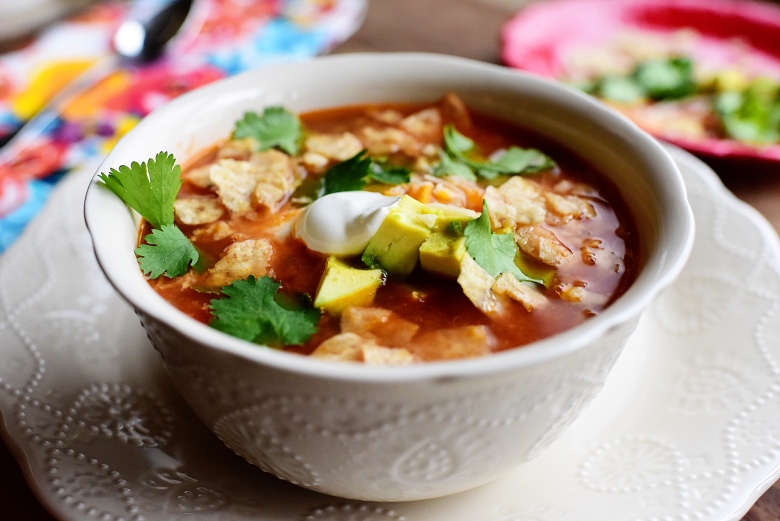 Ingredients
for 8 servings
1 lb shredded, cooked chicken
1 (15 oz) can diced tomatoes
1 (10 oz) can enchilada sauce (a little less if not too spicy)
1 med onion, chopped
1/2 (4 oz) can chopped green chile peppers
2 cloves garlic, minced
2 cups water
15 oz chicken broth
1 tsp cumin
1 tsp chili powder
1 tsp salt
1/4 tsp pepper
1 bay leaf
1 (10 oz) package frozen corn
1 can black beans
big handful of chopped cilantro
7 corn tortillas
oil (avocado or olive)
Directions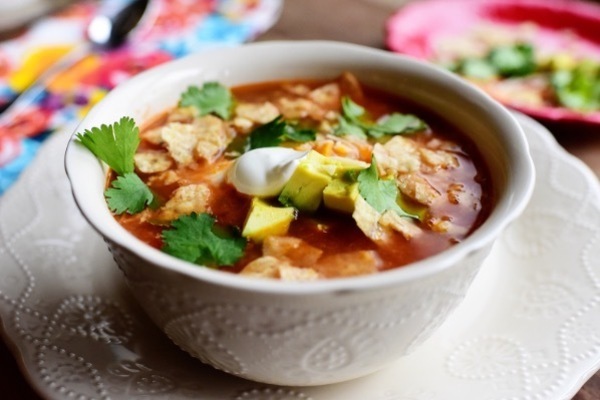 1. 1. Place chicken, tomatoes, enchilada sauce, onion, green chiles, and garlic into slow cooker. Pour in water and chicken broth, season with cumin, chili powder, salt, pepper and bay leaf. Stir in corn, black beans, and cilantro. Cover and cook on low setting for 6 to 8 hours or on high for 3 to 4 hours.
2. 2. Preheat oven to 400
3. 3. Lightly brush both sides of tortillas with oil. Cut tortillas into 1 inch wide strips, then spread on a baking sheet.
4. 4. Bake chips in preheated oven until crisp, about 10 mins. Serve with soup.
October 06, 2016 05:02