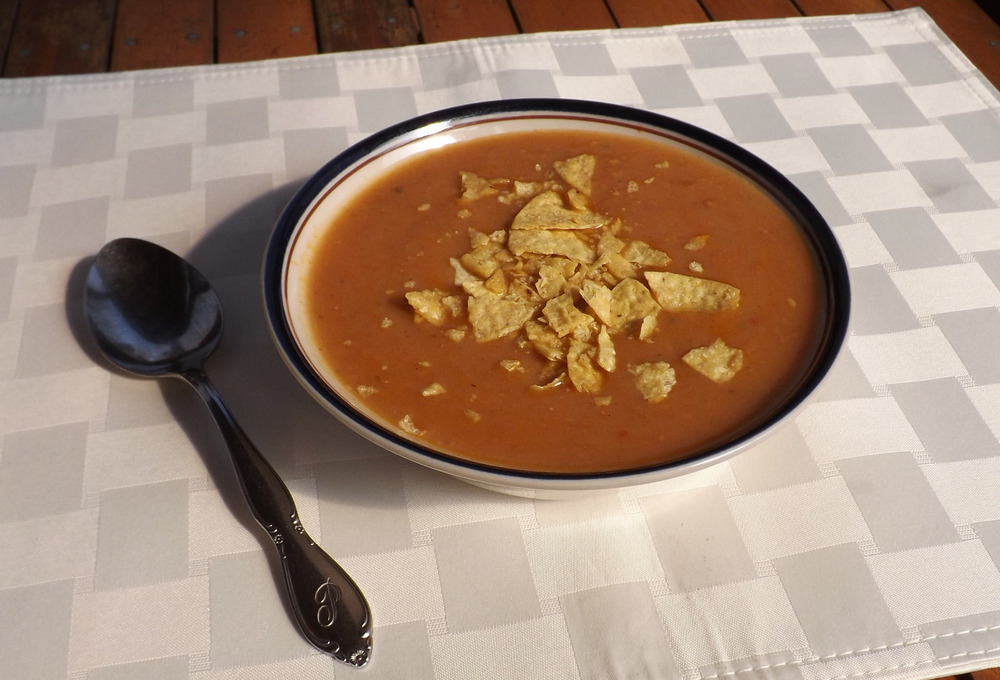 Ingredients
for 6 or more people
9-10 medium yellow gold Potatoes (peeled & cubed)
4 cups Vegetable Broth
4 cups H2O
2 medium Onions (diced)
5 medium Carrots (peeled & diced)
4 stalks Celery (chopped)
1/2 cup Cilantro (chopped)
1 tbsp Grapeseed Oil
1 tbsp Butter (optional)
1/2 medium Bell Pepper (diced)
12oz package Soy Chorizo
1 clove garlic (optional, minced)
1/2 tsp oregano
1/2 tsp Cumin
1/2 tsp fresh ground Black Pepper
1/2 tsp Salt (+ to taste)
Red Chili Flakes (optional, to taste)
Prep. Time → 25 min
Cook Time → 35 min
1. In at least a 6-Quart Stock pot, saute garlic, onion, carrots, and celery in oil and butter for apx. 5 minutes until onion becomes glassy.
2. Add potatoes, salt, pepper, and all spices. Mix well.
3. Add 4 cups broth and approximately 2 cups H2O -enough to just cover/submerge mixture. Stir well and bring to a boil.
4. Cook for 10 minutes then remove from heat source and let sit for 5+ minutes.
5. With a large straining spoon, strain hot vegetables from broth and place in blender. Add apx. 1/2 cup cold H2O to each blender full of hot vegetables and blend* until smooth, adding more H2O if necessary in order to keep slurry circulating. Empty each round of blended slurry into large bowl until all vegetables have been blended.
6. *Note* Be sure to hold down blender cap when blending to avoid steam pressure explosion!
7. Pour blended slurry back into broth mixture sitting in pot. Stir to combine.
8. Add soy chorizo and mix well.
9. Salt to taste and bring back up to temp.
10. Serve with crushed tortilla chips and/or fresh toasted bread.
main courses, best, delicious, healthy, hearty, hot, latino, mexican, smooth, spicy, superior, tasty, thick, vegetables, vegetarian, yummy February 22, 2016 21:39
Author Original recipe developed from hybridizing multiple sources
Share the recipe with your friends
No one has liked this recipe.
0 comments