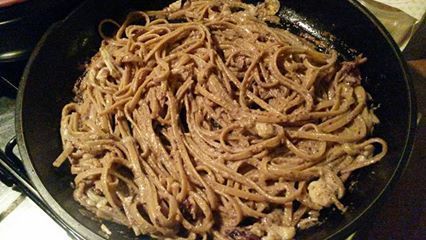 Ingredients
Qualche foglia di radicchio rosso
3-4 cucchiai olio di semi
5-6 gherigli di noci
verde di riso
spezie
un mestolo di acqua bollente in cui si cuociono gli spaghetti
Directions
1. Frullare tutto in un mixer.
Far saltare della cipolla in padella e aggiungere qualche foglia di radicchio per qualche minuto.
Aggiungere gli spaghetti bolliti, la salsina con noci e radicchio e una fetta abbondante di verde di riso.
Mescolare un paio di muniti e servire. Volendo aggiungere una spolverata di parmigiano vegano alle noci macadamia.
starters, pasta August 27, 2016 08:30
Author https://facebook.com/megliodomani...
Share the recipe with your friends
No one has liked this recipe.
0 comments