1 onion , sliced
1 red pepper , cut into chunks
olive oil
100g chorizo , chopped into pieces
150g paella rice
pinch saffron
400ml chicken stock , hot
125g cooked prawns
1 lemon , halved
small bunch parsley , chopped
Prep. Time → 5 min
Cook Time → 25 min
1. Cook the onion and pepper in 2 tbsp olive oil in a wide, shallow pan until softened. Add the chorizo and cook for a couple of minutes until the oil is released. Stir in the rice until coated in all the oils. Stir the saffron into the stock then add to the pan and stir well. Put on a lid and cook for 15 minutes until the rice is tender and the stock absorbed.
2. Stir in the prawns until heated through completely, then squeeze over lemon and toss through the parsley.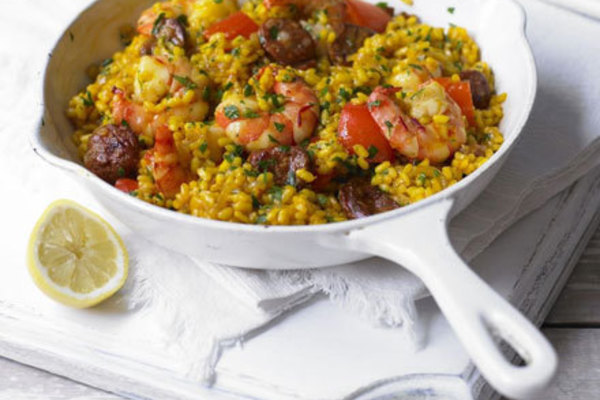 main courses, chorizo, lunch, prawns, seafood, spanish rice October 21, 2012 08:07
Author personalrecipe.com/seafood/spa...
Share the recipe with your friends
No one has liked this recipe.
0 comments