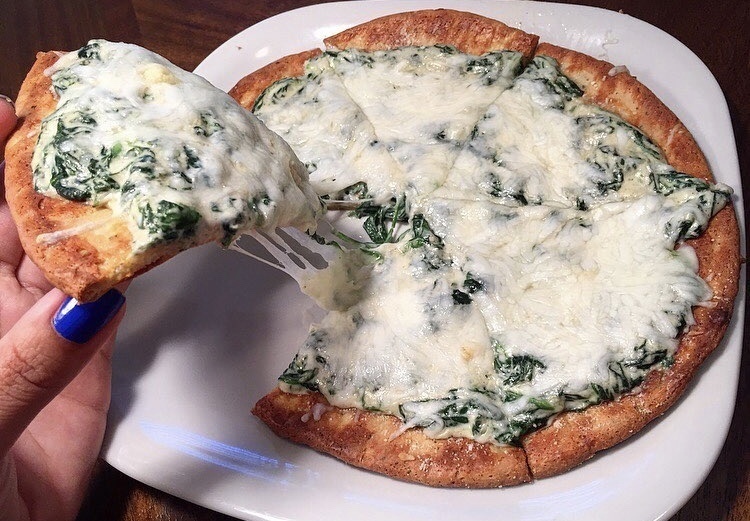 Ingredients
For the crust
1 1/2 cups shredded mozzarella
3/4 cups almond flour
2 Tbs cream cheese
1 egg
1 Tsp garlic powder
1 1/2 Tsp Italian seasoning
For the toppings
1 to 1 1/2 cup mozzarella cheese
1/3 cup alfredo sauce
1/2 cup fresh spinach or 1/4 cup frozen spinach(defrost before adding)
1/2 Tsp garlic powder
Parmesan cheese (optional)
Prep. Time → 5 min
Cook Time → 25 min
1. We cook the crust first! These are the directions for the fat head crust.

Place mozzarella & cream cheese in a medium sized, microwaveable bowl
2. Microwave for 1 minute, stir & microwave for another 30 seconds. Stir again
3. Stir in egg & almond flour
4. Wet hands & spread dough on a parchment paper covered cookie sheet
5. Using a fork, poke holes in the dough
6. Place in oven on 425 degrees for 8 minutes
7. After 8 min, check & poke hole where any bubbles may be
8. Place back in oven & continue to cook for 12-14 minutes or until light brown.
9. Once crust is cooked. Add alfredo sauce & sprinkle garlic powder on top
10. Add spinach and then the cheese
11. Place in oven for about 4-5 minutes or until cheese is melted & hot
12. Take out oven and sprinkle parmesan cheese on top. Slice and enjoy!
13. Tips:
* You can add as much or as little of the toppings as you'd like. I included the measurements of the amount I used.
* For a thinner crust, spread the dough out more. For a thicker crust, spread it less.
* This crust is made from the Fat Head dough recipe, all credit goes to them, I did not create the crust recipe. But I added my own twist by including the garlic powder and italian seasoning.
main courses, healthy, keto, low carb, pizza, tasty, fat head pizza, low carb pizza, keto pizza February 01, 2018 06:08
Share the recipe with your friends
No one has liked this recipe.
0 comments