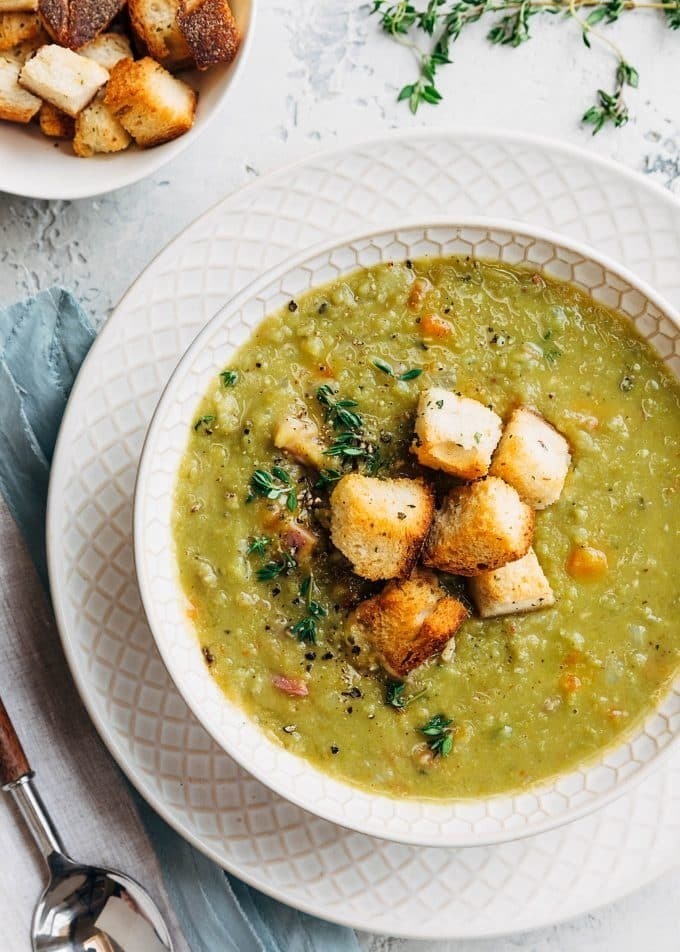 Ingredients
for 6 servings
1/4 cup unsalted butter
2 cups chopped onion
1 cup diced carrot (1/4-inch dice)
1 cup diced celery (1/4-inch dice)
1/4 to 1 teaspoon kosher salt , to taste
1/2 teaspoon freshly-ground black pepper , plus additional to taste
2 cloves garlic , minced
1 pound dried split peas , rinsed and sorted
1 meaty ham bone
1 large bay leaf (or 2 small)
2 teaspoons fresh thyme leaves , chopped and quantity divided
6 cups chicken stock
2 cups water
1 cup diced ham (1/4-inch dice)
1. In a large pot or Dutch oven, melt butter until foaming subsides. Add onion, carrot, celery, 1/4 teaspoon salt and 1/2 teaspoon pepper. Cook until vegetables are softened and just beginning to brown, 5-8 minutes. Add garlic and cook for 1 minute, until aromatic. Stir in split peas.
2. Add ham bone, bay leaf, and 1 teaspoon fresh thyme. Stir in chicken stock and water. Bring to a boil, reduce heat, and simmer uncovered for 60-90 minutes, stirring occasionally, until split peas are cooked down and soup is thickened to desired consistency. (Stir more frequently as the soup begins to thicken and add a little additional stock or water if it gets too thick for your tastes.)
3. Add diced ham during the last 15 minutes of cooking. When ready to serve, remove and discard ham bone and bay leaf, and stir in remaining 1 teaspoon fresh thyme. Season to taste with salt, if needed. Serve hot with croutons and cracked black pepper.
4. Notes
*Salt content can vary significantly across brands of ham. This is why I recommend seasoning the soup to taste after it's finished simmering. If you taste your ham before cooking and it's particularly salty, you might want to omit the 1/4 teaspoon salt when sweating the vegetables.
5. Ham Bone Substitution:
*If you don't have a leftover ham bone, two smoked ham hocks can be substituted (1-1/2 pounds). They are saltier than a ham bone, so reduce the added salt in your soup accordingly. When you remove the ham hocks from the pot, shred the meat off of the bones and return it to the pot before serving. Discard the bones.
6. Make-ahead:
The soup can be stored, tightly-covered, in the refrigerator for 3 days, or frozen for 2-3 months. When reheating (to 160 degrees F), add additional stock to thin the soup, if needed.
main courses April 20, 2022 17:25
Author Striped Spatula
Share the recipe with your friends
No one has liked this recipe.
0 comments