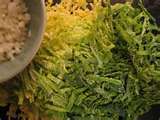 Ingredients
4 slices bacon
4TBs butter
1 head cabbage
Salt and fresh pepper, to taste
1. Cook bacon in large pot (skillet) over medium heat until almost crisp. Remove bacon from the skillet and set aside. Melt butter in the skillet with the bacon grease. Add the cabbage, stirring well to coat the cabbage in fat. Add about 1/3 cup water, and salt and pepper to taste. Cover pot with a lid, and cook over medium heat for about 10-15 minutes.
Meanwhile, chop the bacon into small pieces.
2. Remove the lid from the pot, and scatter chopped bacon over top of the cabbage. Cover and cook until desired doneness. I personally like a little bit of crunch left to the cabbage.
Tip: Cabbage is one of those vegetables that natually contains water in the leaves. Begin by adding just a small amount of water. As cabbage cooks, if it needs more liquid, then add more water.
side dishes February 24, 2011 01:48
Author My mom sent me this recipe. I wish I could give proper credit.