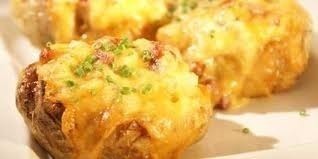 4 Large, Cleaned Potatoes
50g (2oz) of Butter
75g (3oz) of Chopped Ham
75g (3oz) of Grated Cheese
2 tbsp of Milk
1 tbsp of Chopped Parsley
Salt and Pepper for seasoning
1. Preheat your oven to 200 centigrade (400 F, gas mark 6)
2. Put the potatoes onto a baking tray and prick them with a fork. Bake them for 1- 1 and a half hours.
3. Carefully push a skewer into the biggest potato. If it is soft, it is cooked - if not, cook the potatoes for a little longer.

When the potatoes are cooked, cut them in half lengthways and scoop out the middles into a bowl.
4. Mash the potato with a fork. Then, mix in the rest of the ingredients. Add a pinch of salt and pepper.
5. Fill the potato skins with the mixture and bake them for another 15 minutes. Decorate them with parsley.
main courses November 09, 2011 17:09
Author Angela Wilkes