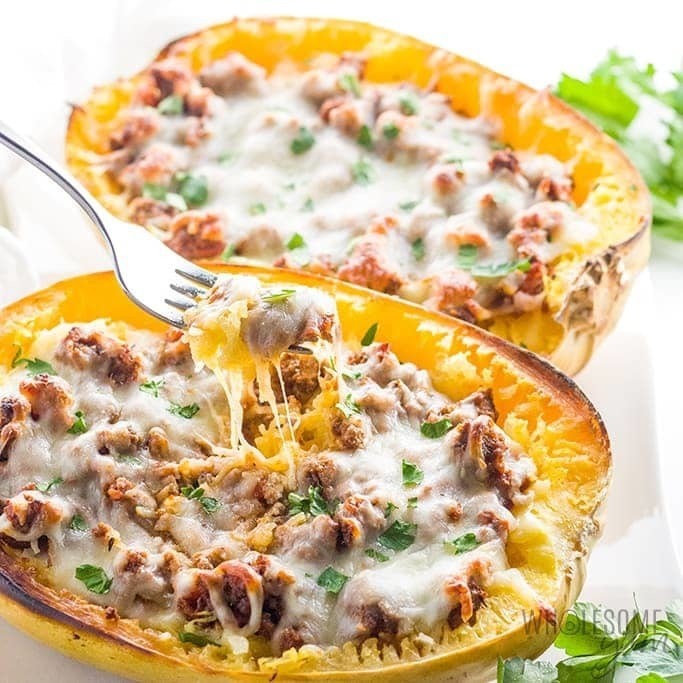 Ingredients
SPAGHETTI SQUASH
1 med spaghetti squash (4 to 8 lbs)
4 tsp olive oil
sea salt
MEAT LAYER (I DOUBLED THE MEAT SAUCE)
1 tbsp olive oil
2 cloves garlic
1/2 lb ground beef
1/2 tsp sea salt
1/8 tsp black pepper
1/2 cup marinara sauce
1 tsp italian seasoning
(add spinach for some green)
CHEESE LAYERS
1/2 cup ricotta
1/3 cup grated parmesan cheese
1 tbsp olive oil
sea salt
1 cup fresh grated mozzarella cheese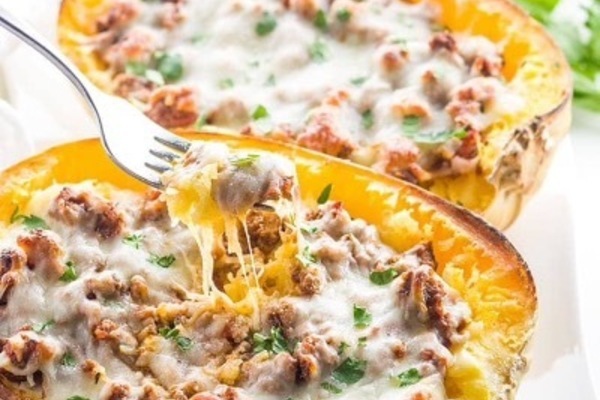 1. Preheat oven to 425. Line a baking sheet with foil or parchment paper. Use a sharp knife and trim the ends off and then cut the squash in half. Scoop out the seeds. Drizzle the inside of the halves with olive oil and season with sea salt.
2. Place spaghetti squash halves onto the lined baking sheet, cut side down. Roast in oven for 25-35 minutes, until the skin pierces easily with a knife. The knife should be able to go in pretty deep with just very slight resistance.
3. Meanwhile, stir together the ricotta cheese, parmesan cheese, and a tbsp of olive oil in a large bowl. (The bowl should be large enough to add the spaghetti squash strands later). Set aside.
4. Meanwhile, heat a tbsp of oil in a large pan over medium-high heat. Add the beef and break up. Season with sea salt and pepper. Add the garlic. Cook until browned (about 10 mins). Stir in marinara sauce and italian seasoning. Reduce heat to a gentle simmer. Add spinach. Simmer for about 10 mins. If it's done before the squash is ready, cover and keep warm.
5. Remove the squash from the oven and let rest in pan (open side down, without moving) for 10 mins. Leave the oven on.
6. Use a fork to release strands from side to side. Transfer the strands into the large bowl with the ricotta and parmesan. Mix together and season with sea salt to taste.
7. Stuff the spaghetti squash mixture back into the empty shells on the baking sheet. Top with the beef marinara mixture. Sprinkle shredded mozzarella on top.
8. Return the lasagna spaghetti squash boats to the oven for about 10 mins until the cheese melts.
main courses February 11, 2021 03:15