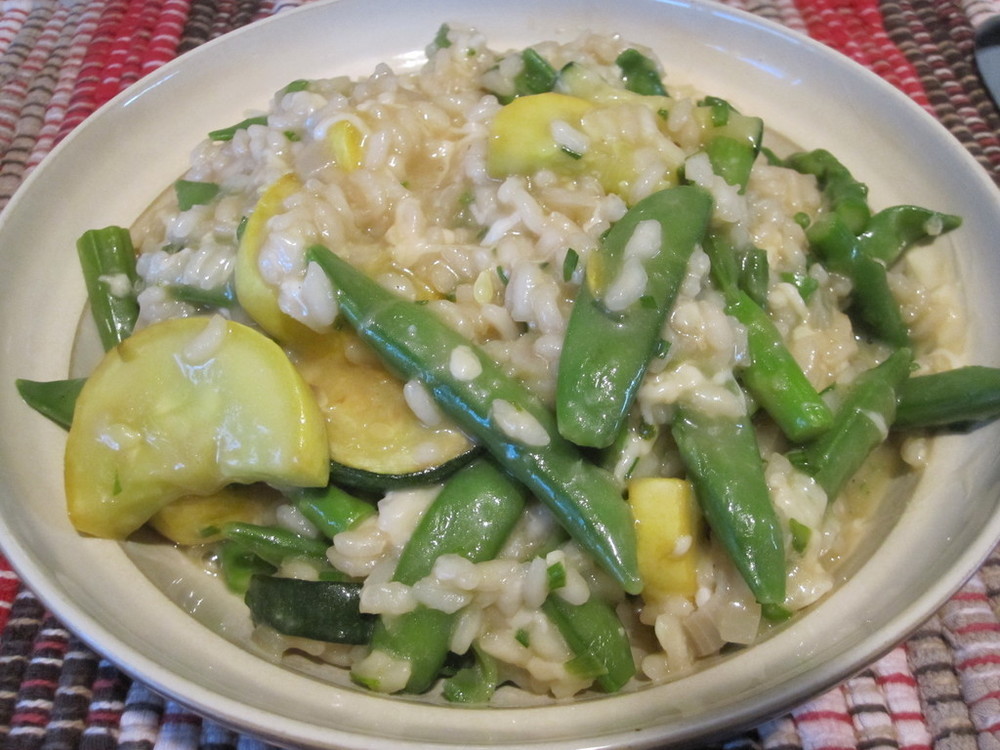 Ingredients
8 ounces asparagus, trimmed and cut into 1-inch pieces
8 ounces sugar snap peas, trimmed and cut in half
5 teaspoons extra-virgin olive oil, divided
1 zucchini, halved lengthwise and cut into 1/2-inch-thick slices
1 yellow squash, halved lengthwise and cut into 1/2-inch-thick slices
4 3/4 cups vegetable broth
1/2 cup finely chopped shallots
1 cup uncooked Arborio rice
1/4 cup dry white wine
1/2 cup grated fresh Romano cheese
1/4 cup chopped fresh chives
1 teaspoon grated lemon rind
2 tablespoons fresh lemon juice
1 tablespoon unsalted butter
1/4 teaspoon salt
1. Bring a large saucepan of water to a boil. Add asparagus and peas; cook for 3 minutes or until crisp-tender. Drain and rinse under cold water.
2. Heat a large nonstick skillet over medium-high heat. Add 2 teaspoons olive oil to pan; swirl to coat.
3. Add zucchini and squash to pan; cook for 7 minutes or until lightly browned, stirring occasionally. Set aside.
4. Bring vegetable broth to a simmer in a medium saucepan (do not boil). Keep warm over low heat.
5. Heat remaining 1 tablespoon olive oil in a Dutch oven over medium heat. Add shallots, and cook for 3 minutes or until tender.
6. Stir in rice, and cook for 1 minute, stirring constantly. Stir in wine; cook until liquid is absorbed (about 30 seconds), stirring constantly.
7. Stir in 1 cup broth; cook 5 minutes or until liquid is nearly absorbed, stirring constantly. Reserve 1/4 cup broth.
8. Add remaining broth, 1/2 cup at a time, stirring constantly until each portion of broth is absorbed before adding the next.
9. Stir in vegetables; cook 1 minute or until thoroughly heated.
10. Remove from heat; stir in reserved 1/4 cup broth and remaining ingredients.
main courses, risotto, vegetarian October 05, 2012 03:54
Author myrecipes.com/recipe/summe...
Share the recipe with your friends
No one has liked this recipe.
0 comments