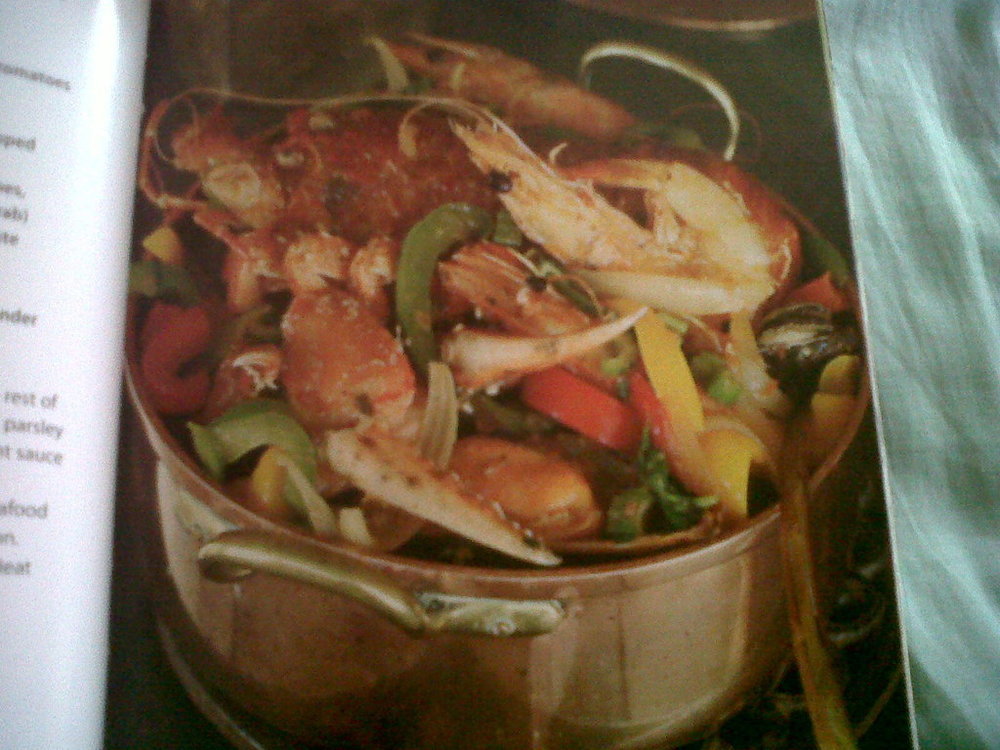 Ingredients
for 8-10 people
1 onion, cut into quarters
1 red, 1 yellow and 1 green sweet pepper, seeded and cut into strips
3 celery sticks, chopped
6 garlic cloves, crushed
50ml olive oil
1 liter fish stock
250ml dry red wine
3 bay leaves
5ml paprika
5ml sugar
2ml ground cumin
2 cans (420g each) chopped tomatoes
50g tomato paste
juice and zest of 1 lemon
2 red chillies, seeded and chopped (optional but recommended)
2kg seafood (boneless fish cubes, prawns, calamari, crayfish, crab)
salt, pepper and peri-peri to taste
pinch saffron
60ml cake flour
chopped fresh parsley and coriander to garnish
Prep. Time → 15 min
Cook Time → 35-40 min
1. Fry onion, sweet peppers, celery and garlic in the oil until soft. Add the rest of the ingredients except the seafood, salt, peri-peri, pepper, saffron. cake flour, parsley and coriander. Bring to the boil then simmer for 15-20min until a fragrant sauce forms
2. Add the seafood, bring to the boil then simmer (10-15min) until the seafood is just done but not falling apart. Season with salt, pepper, peri-peri and saffron.
3. Make a paste with the cake flour and a little water and add to the seafood. Heat until the sauce thickens slightly and is done.
4. Garnish with parsley and coriander. Serve with fresh bread.
main courses, bbq, calamari, fish, prawn, seafood, crab, crayfish December 12, 2011 13:30
Author Let's Braai, You Magazine compilation, printed by Media24
Share the recipe with your friends
No one has liked this recipe.
0 comments