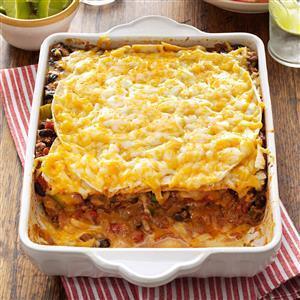 Ingredients
for 8 servings
1 pound ground beef
1/2 cup green pepper, chopped
1/2 cup onion, chopped
2/3 cup water
1 envelope taco seasoning
1 can (15 ounces) black beans, rinsed and drained
1 can (14-1/2 ounces) Mexican diced tomatoes, undrained
6 flour tortillas (8 inches)
1 can (16 ounces) refried beans
3 cups (12 ounces) shredded Mexican cheese blend
Prep. Time → 20 min
Cook Time → 30 min
1. In a large skillet, cook the beef, green pepper and onion over medium heat until meat is no longer pink; drain. Add water and taco seasoning; bring to a boil. Reduce heat; simmer, uncovered, for 2 minutes. Stir in black beans and tomatoes. Simmer, uncovered, for 10 minutes.
2. Place two tortillas in a greased 13x9-in. baking dish. Spread with half of the refried beans and half of the beef mixture; sprinkle with 1 cup cheese. Repeat layers. Top with remaining tortillas and cheese.
3. Cover and bake at 350° for 25-30 minutes or until heated through and cheese is melted.
main courses, casserole, ethnic, ground beef January 15, 2017 12:55
Author tasteofhome.com/recipes/ta...
Share the recipe with your friends
No one has liked this recipe.
0 comments