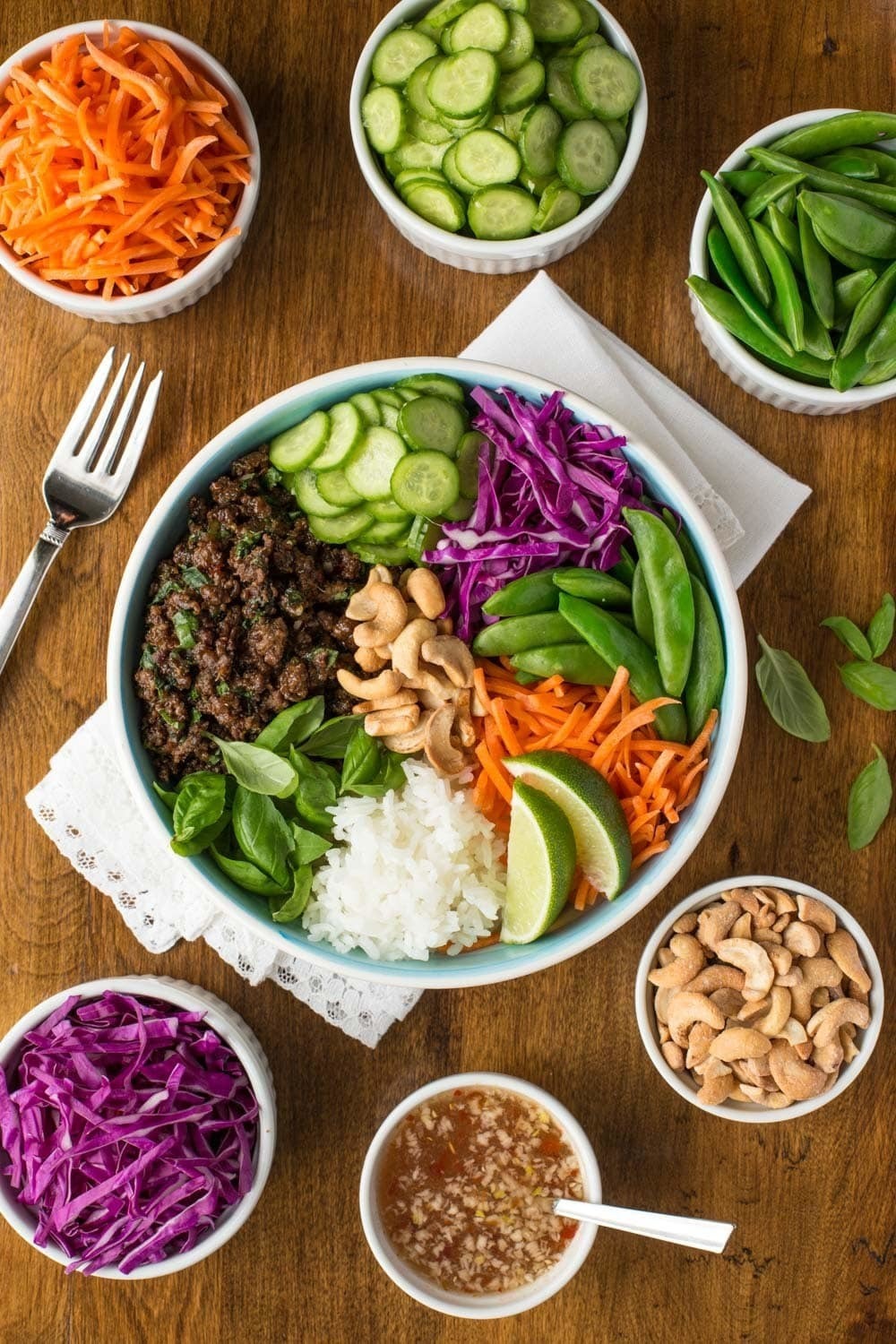 Ingredients
1 tbsp finely minced fresh garlic 3-4 cloves
2 tbsp finely grated fresh ginger or ginger paste
1 tbsp finely chopped fresh lemongrass or lemongrass paste
1 tbsp avocado oil
1 1/2 lbs lean ground beef
1 med onion finely diced
2 tsp sesame oil
3 tbsp low sodium soy sauce
1 tbsp fish sauce
5 tbsp sweet chili sauce
1 cup thinly sliced fresh basil leaves, divided
For the rice bowls
1 med seedless cucumber thinly sliced
2 cups sugar snap peas
2 cups thinly sliced red cabbage
2 cups shredded carrots
3 cups cooked rice
nuoc cham recipe below
1/2 cup salted, roasted cashews
-can add sliced red or yellow peppers, cilantro, avocado
Nuoc Cham ingredients
1/3 cup water
2 tbsp granulated sugar
1 1/2 tbsp fish sauce
2 tbsp fresh lime juice
1 med clove garlic, minced
1 tsp garlic chili sauce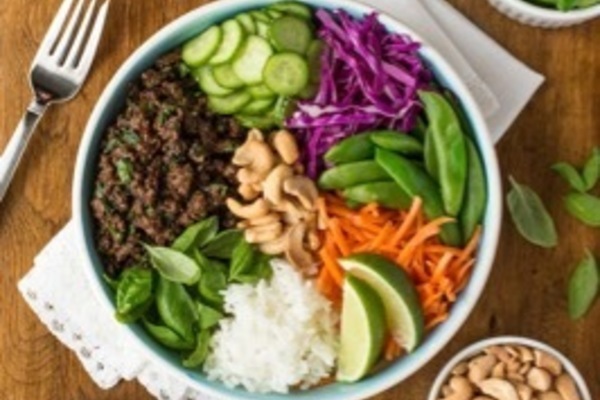 1. Make the nuoc cham: Combine all the ingredients in a med size bowl. Stir to combine and set aside.
2. Combine the garlic, ginger and lemongrass in a small bowl. Set aside.
3. Heat the avocado oil in a large wok. Add ground beef and break apart. Cook through.
4. Add onion. Cook 3-4 mins until onion is softened and becomes translucent.
5. Spread beef mixture to the edges of the pot. Add the sesame oil and heat for 30 secs, then add the garlic/ginger/lemongrass mixture and cook for another 30 secs, stirring continuously.
6. Add the soy sauce, fish sauce and sweet chili sauce to the beef mixture and cook over med heat for 3-4 mins stirring frequently until a nice golden brown. Add the basil and stir in. Remove pot from heat and cover to stay warm.
7. Place sugar snap peas in a bowl with 2 tbsp water and microwave for 45 seconds.
8. Arrange your bowl with rice, meat, snap peas and all the veggies. Drizzle with some of the nuoc cham.
main courses May 09, 2021 02:01
Share the recipe with your friends
No one has liked this recipe.
0 comments