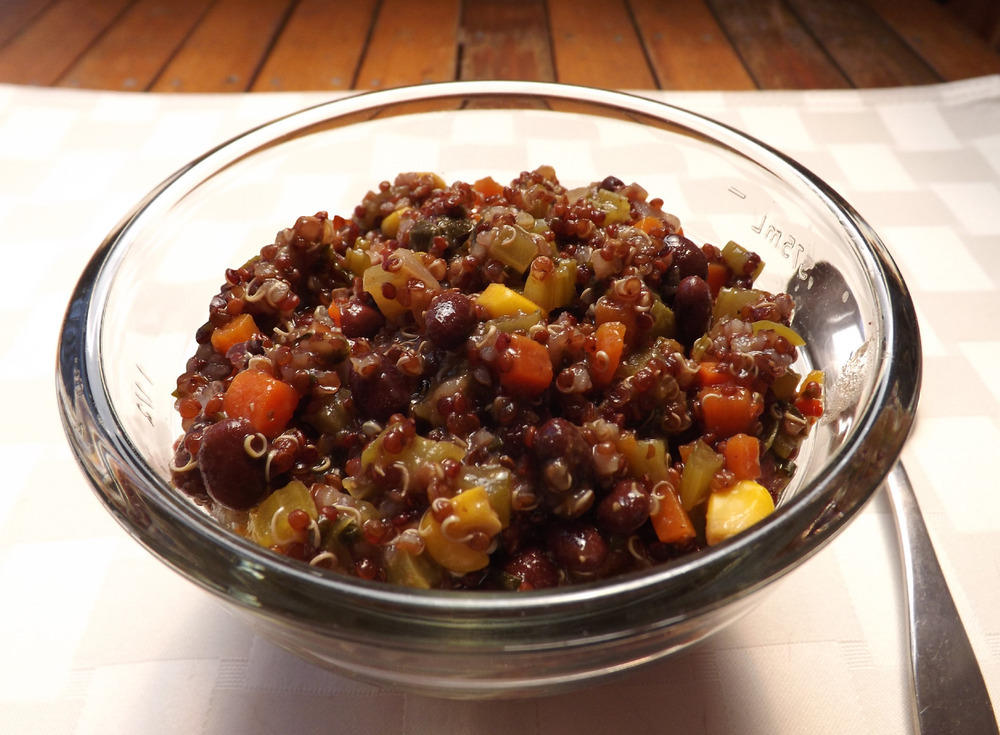 Ingredients
for 6 or more people
1 cup Red Quinoa
2 cups Vegetable Broth
1/4 tsp Salt
1/4 tsp Pepper
1/4 tsp Cumin
1/4 tsp Oregano
1/2 tsp red chili flakes
1/4 tsp Ground Chipotle or Smoked Paprika (optional)
1/2 large Onion
2 medium Carrots (petite diced)
1/4 cup Cilantro (chopped)
2 or 3 ribs Celery (split & petite diced)
1-3 tsp Cholula sauce, Franks Red Hot, or Tabasco sauce
1 can Black Beans
1/2 cup Corn Kernels
Prep. Time → 15 min
Cook Time → 30 min
1. Combine quinoa, broth, carrots, onion, celery, and spices in deep soup pot and stir well.
2. Bring to a boil, cover, and simmer for apx 25 minutes.
3. With 10 minutes left on the timer, add beans, green pepper, and corn. Stir into mixture and continue cooking until liquid is absorbed and quinoa releases its white germ rings..
4. Remove from heat and add the Cholula, (or Franks Red Hot, or Tabasco). Stir well and let sit for 5 minutes.
5. Serve as a side, or as a main course with chips and salsa. Garnish with a sprig of cilantro.
side dishes, authentic, healthy, spicy, vegan, vegetarian, incan, ancient, grain, hearty, delicious, protein, tasty, peru November 03, 2013 06:07
Author Original recipe.
Share the recipe with your friends
No one has liked this recipe.
0 comments