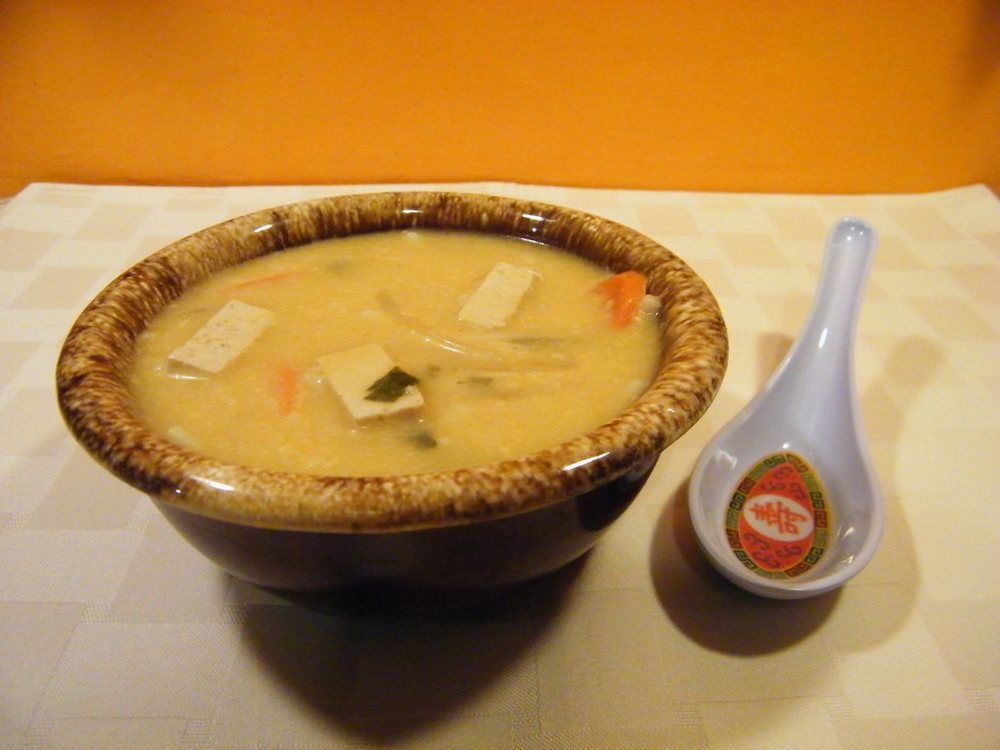 Ingredients
for 6 or more people (or 2 people for a few days)
1 large stalk Lemongrass (cut into 3-inch lengths & crushed)
1 large Carrot (sliced)
3 to 5 fresh red Thai Chilies (seeded & minced)
3 cups Vegetable Broth
2 cans Coconut Milk
4 cups H2O
1 two-inch long Galangal Root (sliced thin)
4 or 5 sprigs fresh Cilantro (chopped)
4-5 Kaffir Lime Leaves (de-stemmed and bruised)
1/8 cup Fish Sauce
1/8 cup Golden Mountain Sauce
1 tbsp Palm Sugar (or 1/2 brown 1/2 white)
2 juicy Limes
1/2 16oz pkg. Super Firm Tofu (diced)
3 Green Onions (chopped)
1 heaping tbsp Namprik Pao (Thai Chili Paste in Soybean Oil)
2 cups fresh steamed Jasmine Rice spooned into each serving bowl
Prep. Time → 30 min
Cook Time → 30 min
1. Combine H2O, broth, carrot, kaffir leaves*, lemongrass*, and Thai chilies* in 6 quart stock pot over medium heat.
2. Add fish sauce, Golden Mountain Sauce, lime juice, and sugar, then stir.
3. Add cilantro, tofu, and galangal root*. Stir.
4. Bring to a boil, remove heat source, then add coconut milk and stir.
5. Let sit for at least 30 minutes. (Take the 30 minutes to cook rice.)
6. Bring back up to temp, add namprik pao, and stir well. Be sure not to boil to extensively as this can cause the coconut milk to break down and lose its creaminess.
7. Serve with spoonfuls of rice in each serving bowl and green onion segments sprinkled on top.
8. *Note* Fresh Thai chilies, Kaffir leaves, lemongrass stalks, and Galangal root can easily be secured at your local Asian grocery market along with Thai Chili Paste in Soybean Oil. If you run an image search for "chili paste in soybean oil" you can see what to look for. I use Maesri brand; it rocks.
main courses, authentic, delicious, healthy, sweet, tangy, vegetarian, brothy, tom ka gai, spicy October 29, 2013 05:55
Author Original recipe developed from hybridizing multiple sources.
Share the recipe with your friends
No one has liked this recipe.
0 comments