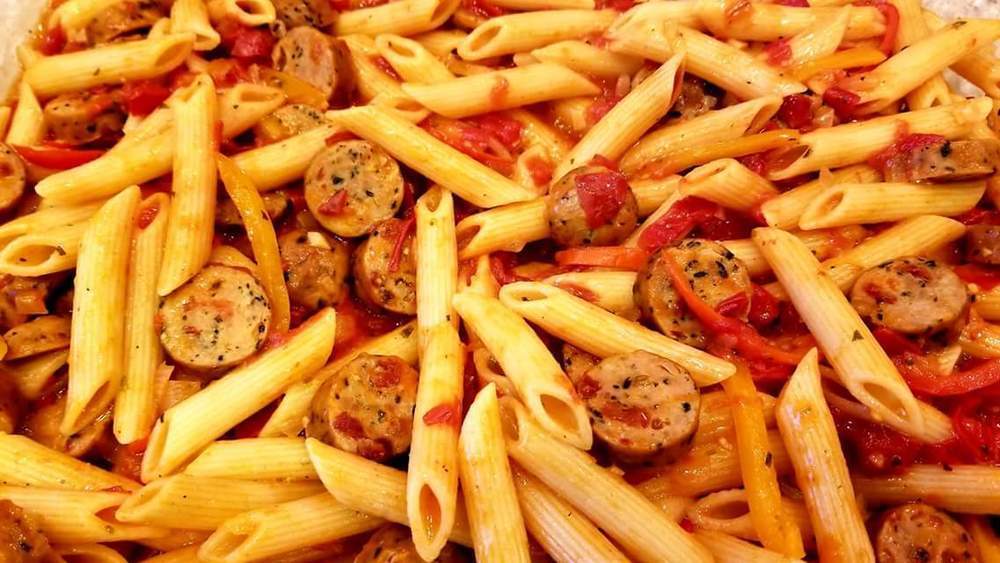 Ingredients
for 4 servings
1 pkg. Never Any! Tomato-Basil Chicken Sausage
8 oz dry penne pasta
2 t olive oil
1/2 C onion, finely chopped
1 clove garlic, chopped
4 small sweet peppers, sliced
2 1/2 C Roma tomatoes, seeded and chopped
1/4 cup chopped fresh basil or 4 t dried basil
1/2 t salt
1/2 C chicken broth
1/8 t hot pepper sauce or red pepper flakes
1 T cornstarch
2 T water
1/4 C Parmesan cheese
Prep. Time → 20 min
Cook Time → 30 min
1. Cook sausage according to package directions. Allow to cool for at least 5 minutes. Slice into 1/4" thick pieces. Set aside.
2. Cook pasta according to package directions until it is al dente, about 8 to 10 minutes. Drain and set aside. Add a little olive oil if necessary to prevent sticking.
3. In a large skillet, heat oil over medium-high heat. Saute the onions, garlic and peppers. Stir in the tomatoes, chicken sausage, basil, salt, hot pepper sauce or flakes and chicken broth. Reduce heat to medium, and cover skillet. Simmer for about 5 minutes, stirring frequently, until mixture is hot and tomatoes are soft.
4. Mix cornstarch and water with a whisk or fork, add to sauce mixture and mix. Reduce heat slightly and cook uncovered until sauce thickens to desired consistency.
5. Toss sauce with hot cooked pasta to coat. Serve with Parmesan cheese.
main courses, italian, pasta, tomatoes August 14, 2018 17:39
Share the recipe with your friends
No one has liked this recipe.
1 comment