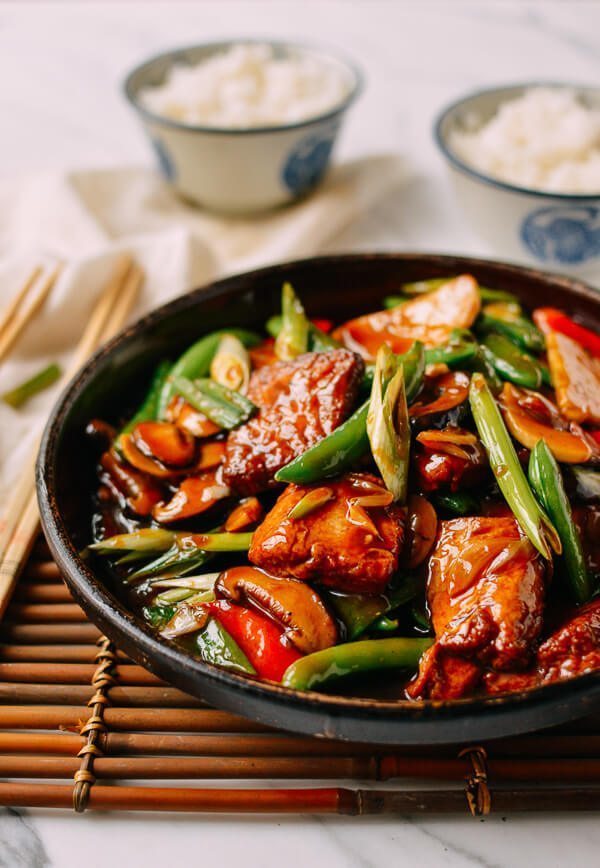 Braised Tofu is an authentic Chinese restaurant dish that you can easily make at home. Using silken tofu, all it takes is a quick deep fry and then a transfer into a hot wok. That's the key to replicating that restaurant flavor at home.
Recipe type: Tofu
Cuisine: Chinese
Serves: 4
Ingredients

1 block of silken tofu
2 to 3 cups of canola or soybean oil for frying
1 cup chicken stock, vegetable stock, or soaking liquid from dried shiitake mushrooms
1 tablespoon oyster sauce (or vegetarian oyster sauce)
1½ tablespoons soy sauce
1 teaspoon dark soy sauce
½ teaspoon sesame oil
¼ teaspoon sugar
¼ teaspoon salt, or to taste
3 small slices ginger (1/8 inch thick, smashed with the broad side of a knife)
3 cloves garlic, finely minced
2 scallions, cut at an angle into 2 inch long pieces (white and green portions separated)
4 fresh shiitake mushrooms (or 4 dried shiitake mushrooms soaked for 1 hour)
1 medium carrot, thinly sliced at an angle
⅔ cup fresh winter bamboo shoots (or canned if fresh shoots are not available)
1 tablespoon Shaoxing wine
½ cup snap peas
1½ tablespoons cornstarch mixed with 1½ tablespoons water
Instructions

Cut the tofu into 10 pieces, transfer to a plate, and let it sit at room temperature for 30 minutes. Carefully tilt the plate and pour off the liquid. This step allows you to remove some of the water content from the very wet silken tofu.
In a tall pot, heat oil to 375 to 400 degrees F. Make sure that the oil is well below the rim of the pot, so the oil does not overflow. It also minimizes splattering. You can use a candy or oil thermometer to check the temperature.
Use a metal spatula or slotted spoon to carefully scoop up one piece at a time and lower it quickly into the hot oil. I suggest frying 3 to 4 pieces at a time, keeping the heat at medium high, because the tofu will cool the oil quickly. You need to maintain that high oil temperature to quickly brown the outside and form a light crust.
Deep fry your silken tofu until light golden brown (about 2 to 3 minutes per batch) and set aside on a dry plate. Oil temperature control is key, as you want to maintain the temperature between 375 and 400 degrees F.
In a bowl, combine the stock, oyster sauce, soy sauces, sesame oil, sugar, and salt together in a bowl and set aside.
Heat your wok over medium heat and add 2 tablespoons of the frying oil around the perimeter of the wok so it is lightly coated. Add the smashed ginger to the wok and stir it in the oil for about 15 seconds. Stir in the minced garlic, the white portion of the scallions, the mushrooms, carrots, and bamboo shoots, and turn the heat up to high. Stir-fry for 30 seconds and add the Shaoxing wine and the snap peas.
Continue to stir-fry for another 30 seconds, and add the sauce mixture. Bring the mixture up to a boil. Once boiling, add the cornstarch and water mixture and stir for 15 seconds until the sauce starts to thicken. Add the fried silken tofu and the rest of the scallions.
Carefully fold the mixture together until the tofu is well-coated. Use extra care, because the fried silken tofu is still very delicate! Let your braised tofu cook for another 15 to 20 seconds and add a little more cornstarch and water if you want a thicker sauce.
Prep. Time → 25 min
Cook Time → 20 min
August 13, 2018 01:04
Author Bill
Share the recipe with your friends
No one has liked this recipe.
0 comments