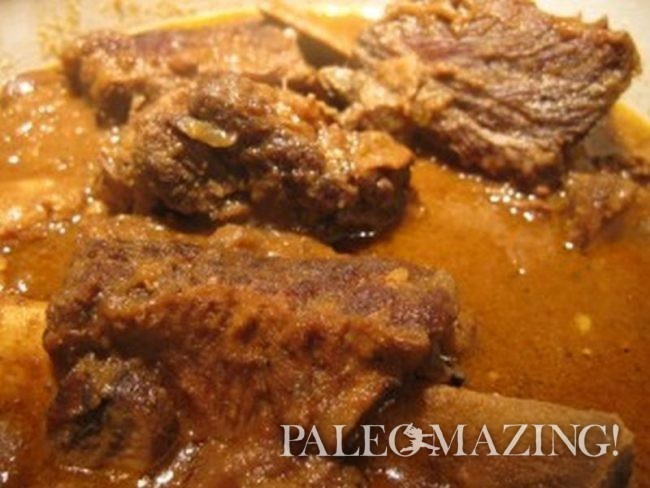 Ingredients
1 - 2 lbs. beef ribs (6-8 pieces)
1 teaspoon salt
½ teaspoon ground black pepper
½ cup coconut flour
2 tablespoons coconut oil
1 tablespoon olive oil
1 onion, diced
4 cloves garlic, chopped
2 cups mushrooms
1 cup good red wine or gluten-free beer
1 cup beef stock
2 strips cooked bacon
1. Season the beef ribs with salt and pepper.
2. Dredge in coconut flour until coated.
3. Heat your coconut oil on high heat.
4. Reduce the heat and add ribs, browning them on all sides.
6. Heat the olive oil in a large skillet on medium-high heat.
7. Add the onion and garlic to the skillet.
8. Cook and stir until onion is tender, about 5 minutes.
10. Return the ribs to the skillet and pour in the wine or beer.
11. Stir, scraping the bottom of the pan, until all of the browned bits have mixed in with the liquid. Pour in the beef stock, add the bacon and cover and simmer over low heat until very tender, about 2 hours.
12. Remove bacon before serving.
main courses, beef, caveman, cavewoman, paleo, paleo dinner, paleo meal, paleomazing, primal, protein, ribs, tina turbin February 02, 2017 16:45
Share the recipe with your friends
No one has liked this recipe.
0 comments