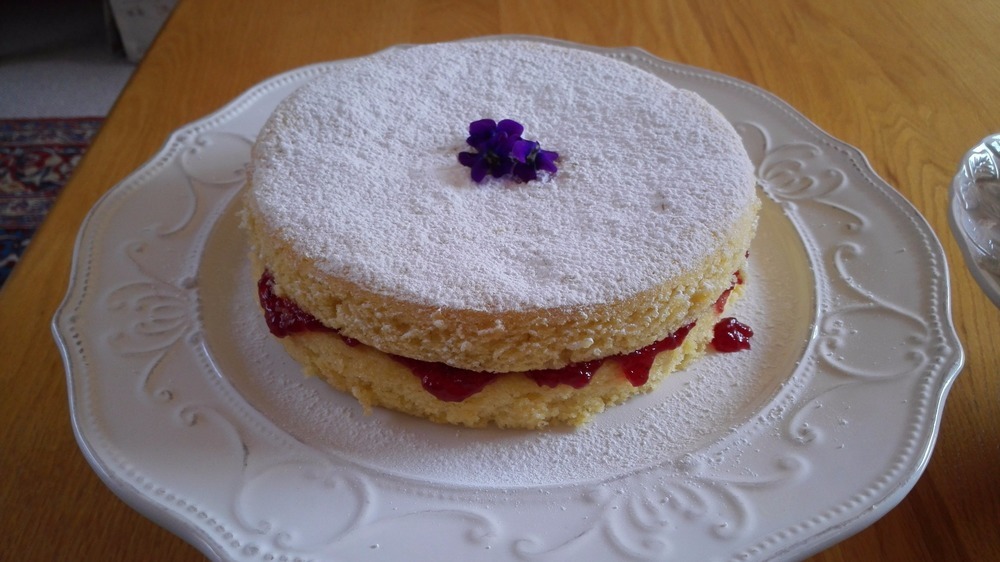 *For the Sponge*
300g vegan-friendly Margarine
300g plain Flour
300g golden Caster Sugar
2 Vanilla pods
200ml Soy Milk
2 table spoons Lemon Juice
Zest of 2 Lemons
2 tea spoons Baking Powder
1/2 tea spoon Corn Flour
For the Filling
*200g Icing Sugar*
100g vegan-friendly Margarine
100g Raspberries (fresh)
4 table spoons Raspberry Jam
Prep. Time → 20 min
Cook Time → 20 min
1. Preheat the oven to 190°C/375°F and grease two spring form cake tins (approximately 20cm) with the margarine. Line the bottom of the tins with greaseproof paper and dust the sides with flour.
2. Beat the margarine and sugar in a bowl for around 5 minutes, or until light and fluffy. Halve the vanilla pods and scrape out the seeds. Add the seeds to the margarine and sugar mixture, along with the soy milk, lemon juice, and lemon zest. Mix thoroughly.
3. Sieve the flour, baking powder and cornflour into the bowl and fold through. If the mixture is too thick, and slightly more soy milk to the mixture and stir briefly until you have a smooth batter.
4. Carefully divide the mixture between the cake tins and place the tins on the middle shelf of the hot oven for 15 to 20 minutes or until golden. Leave to cool for 5 minutes before turning the cakes out onto a wire cooling rack and leave to cool completely.
5. Sieve the icing sugar into a large bowl and add the margarine and beat until the mixture is smooth. If it's too thick, once more, add a splash of soy milk and beat until it becomes smooth.
6. Once the cakes have completely cooled, place one of the sponges on a plate or stand. Carefully spread the margarine icing on top and scatter most of the raspberries. Spread the jam onto the second sponge and place the jam side down on top of the iced sponge, slightly pressing down.
7. Dust the top of the cake with icing sugar and decorate as you wish.
desserts, cake, dessert, english, healthy, jam, sponge, vegan, vegetarian, victoria September 10, 2015 17:04
Author vegrep.com/recipe/vegan-vi...
Share the recipe with your friends
No one has liked this recipe.
0 comments