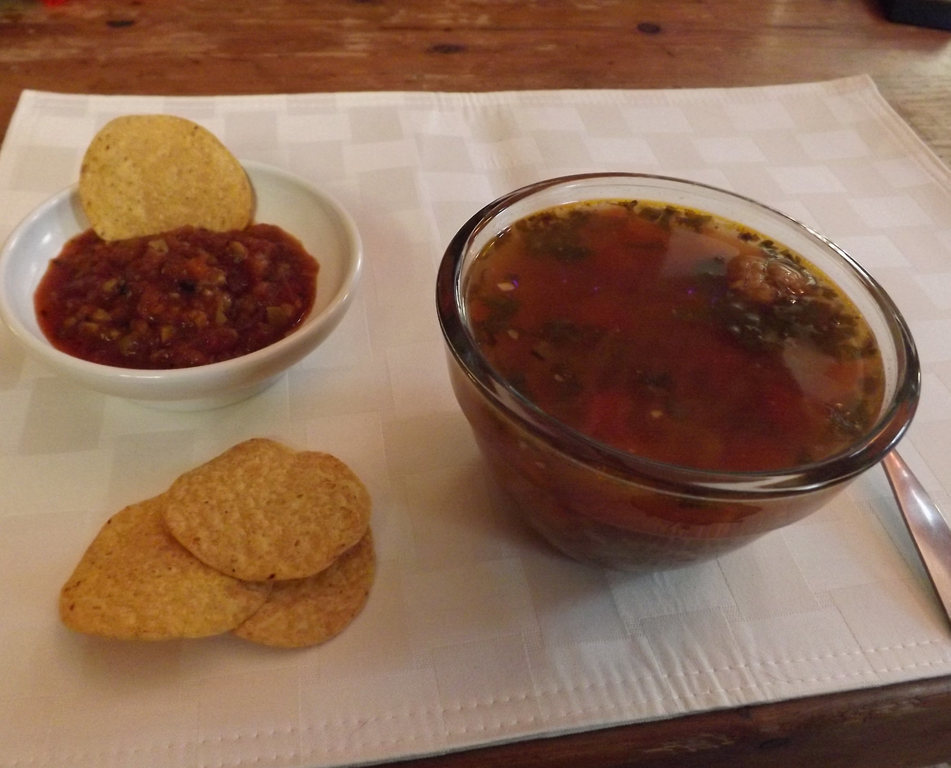 Ingredients
for 6 or more people
3-4 Carrots (chopped)
1 large Onion (sliced)
2 cloves Garlic (minced)
1-2 tsp Grapeseed Oil
2 medium Tomatoes (petite diced)
4 cups Vegetable Broth
1 tsp Salt
1 tsp Pepper
1 tsp Oregano
1 tsp Cumin
3/4 cup Cilantro (chopped)
4-5 ribs Celery (split & petite diced)
4 cups H20
8oz Veggie Crumbles / ground beef substitute
8oz Soyrizo / Chorizo substitute
1/4 cup dry Bread Crumbs
1 Egg (scrambled)
Optional: Green Peas, Corn Niblets, or Green Beans
Prep. Time → 15 min
Cook Time → 30 min
1. Preheat oven to 375 degrees.
2. Begin by combining ground beef substitute, soyrizo, bread crumbs and egg together in mixing bowl. Mix well.
3. Spoon 1-2 tsp mixture into palm, press into spheres using your tightly-cupped fingers and place on lightly oiled (or nonstick) baking sheet.
4. Bake for approximately 10 minutes, then remove from oven and set aside and let cool.
5. In at least a 6 quart stock pot, saute the carrots, onion, and garlic in oil until onions become slightly glassy.
6. Add tomatoes, stir well, and simmer for 2 minutes.
7. Add vegetable broth, salt & pepper, oregano, and cumin. Stir well.
8. Add cilantro, celery, H20, and any optional vegetables, then stir well.
9. Bring to a boil and simmer for 10 minutes or until celery becomes slightly glassy.
10. Remove from heat and add cooled meatballs to soup. Stir.
11. Serve with sliced & toasted baguette or other crusty bread/croutons and/or crushed tortilla chips
main courses, authentic, brothy, healthy, meatballs, mexican, simple, vegetarian, spicy, hearty, salty October 30, 2013 03:44
Author Original recipe developed from hybridizing multiple sources.
Share the recipe with your friends
No one has liked this recipe.
0 comments