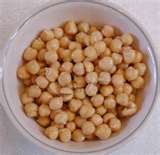 Ingredients
for Amount Per Serving Calories: 259 | Total Fat: 5.8g | Cholesterol: 2mg
1 (19 ounce) can garbanzo beans, drained and rinsed
1 stalk celery, chopped
1/2 onion, chopped
1 tablespoon mayonnaise
1 tablespoon lemon juice
1 teaspoon dried dill weed
salt and pepper to taste
Directions
1. Drain and rinse chickpeas. Pour chickpeas into a medium size mixing bowl and mash with a fork. Mix in celery, onion, mayonnaise (to taste), lemon juice, dill, salt and pepper to taste.
main courses February 09, 2011 03:02
Author Allrecipes
Share the recipe with your friends
No one has liked this recipe.
0 comments