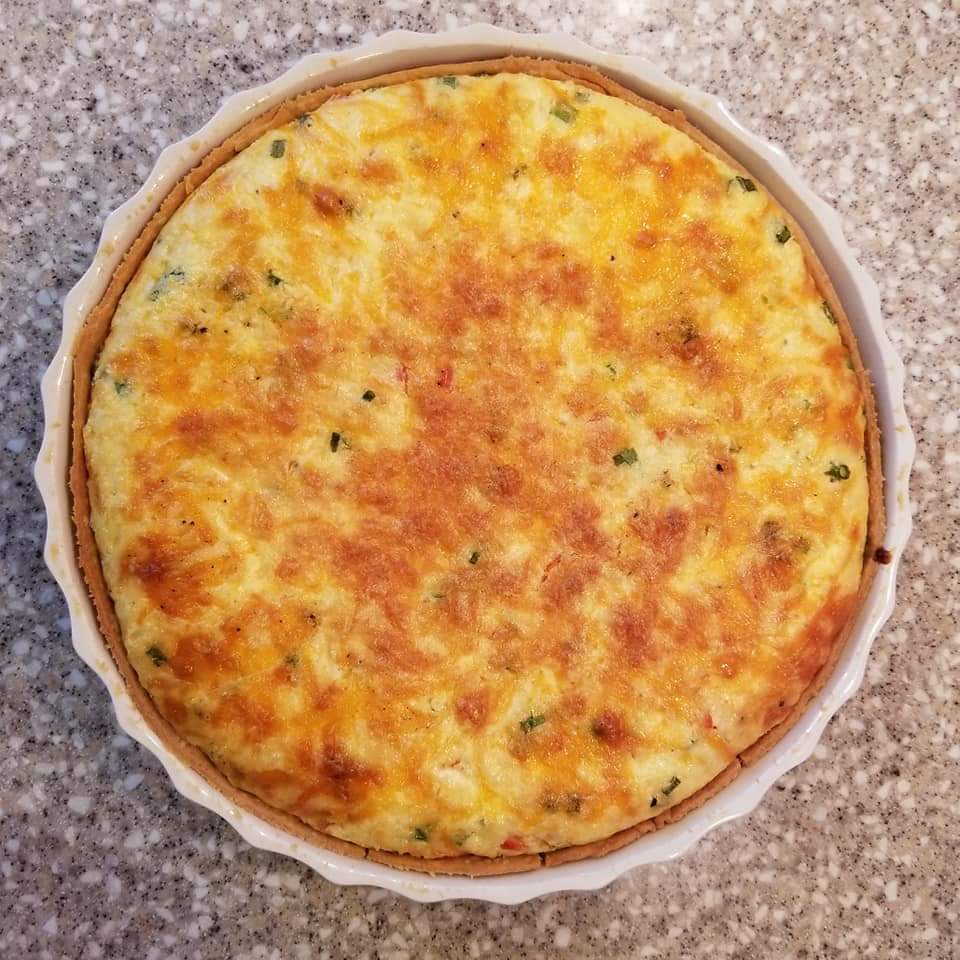 Ingredients
for 8 servings
1 9" ready-made pie crust
¼ lb sharp cheddar cheese, shredded
¼ lb Colby Jack cheese, shredded
½ onion (red, yellow or white) or 6 green onions, chopped
1 small or ½ large sweet bell pepper (Aloha recommended) or 4 multi-colored mini sweet peppers, chopped
2 t minced garlic (about 2 cloves)
Salt, to taste
Ground black pepper, to taste
4 eggs
1 pt heavy whipping cream
Frank's Red Hot Sauce or Cholula, to taste
Prep. Time → 30 min
Cook Time → 45 min
1. Allow pie crust to come to room temperature before unrolling onto a sheet of wax paper. Use a rolling pin to stretch the dough to fit your flan dish. Flip the pie crust into a flan or tart dish (9" x 1 ½") or a pie plate (9" x 1 ¼") with the wax paper facing up and gently remove wax paper. Stretch and press the edges of the crust up the sides of the dish if necessary.
2. Blend the sharp and Colby jack cheese together. For best results, buy block cheese and shred yourself. Avoid pre-shredded cheese. Spread half the cheese into the pie crust. Mix chopped peppers and garlic in a small bowl and spread evenly over the cheese, then top with onion. Add salt and ground black pepper to taste. Spread the remaining cheese evenly over the vegetables. At this time you may cover the pie plate with plastic wrap and place in the refrigerator overnight if you intend to bake this for breakfast the next day. Remove it from the refrigerator and allow it to warm at room temperature 15 minutes before adding wet ingredients and baking.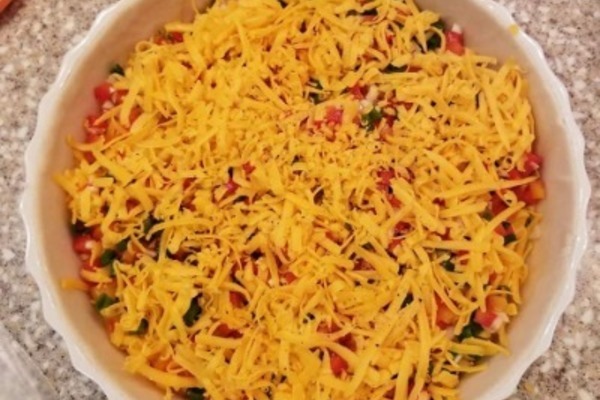 3. Preheat oven to 425°F. In a separate bowl (preferably a batter bowl with a pouring spout), add eggs, several dashes of hot sauce and beat with a whisk until mixed. Add heavy whipping cream and whisk thoroughly. Pour liquid mixture into quiche dish and place quiche on oven on middle rack.
4. Bake for 15 minutes at 425°F, reduce heat to 300°F and bake for an additional 30 minutes. Remove from oven and insert a butter knife into the center to test for doneness. If it comes out clean, the quiche is done. If not, continue baking and check again in a few minutes. Remove quiche from oven and allow it to cool for about 10 minutes before cutting. To transport the quiche to a breakfast gathering away from home, cover with heavy duty foil and place in an insulated carrier or cardboard box. It should stay hot for an hour or two. You can reheat quiche in the original pan by baking it uncovered at 350°F for 10-15 minutes.
main courses, breakfast, cheese, cream, eggs, french, vegetarian, quiche July 25, 2019 14:05
Share the recipe with your friends
No one has liked this recipe.
0 comments