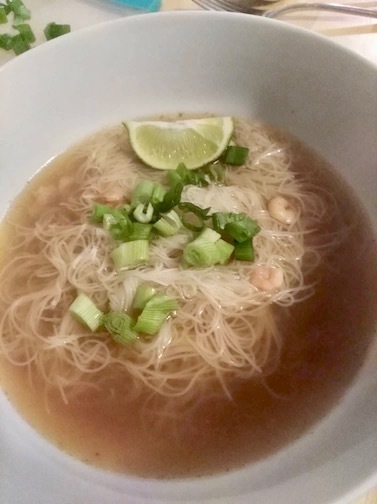 Ingredients
for 6 portions
For the Pho broth

1 kg bones (mix of beef and pork neck bones is recommended)
0.5 kg oxtails
3-4 L water (enough to cover ingredients in slow cooker)
3 bulbs garlic (sliced in half across the diameter)
4 onions (peeled and sliced in half length-wise)
1 (7 cm) piece ginger (sliced in half length-wise)
5 star anise (pods)
2 (10 cm) cinnamon sticks
6 whole cloves
2 whole allspice berries
1 tsp black peppercorns
2 Tbsp fish sauce
20 g dark brown sugar
2 tsp salt
500 g large shrimp (peeled and deveined, or thinly sliced top sirloin or sliced, cooked chicken breast)
450 g rice noodles
Condiments
mung bean sprouts
lime wedges
jalapeño (sliced)
cilantro leaves
thai basil leaves
mint leaves
sliced green onions
fish sauce
Sriracha sauce
soy sauce
Prep. Time → 30 min
Cook Time → 1440 min
1. Preheat your oven to 190°C. Place the bones and oxtails into a roasting pan in a single layer and roast for 2 hours, flipping the bones once during the roasting process. Remove the pan from the oven and transfer the meat to a 5 L (or larger) slow cooker.
2. Deglaze the still- hot roasting pan with a cup of cold water. Scrape up any bits of stuck-on meat from the bottom of the pan and transfer the juices to the slow cooker.
3. Place the garlic, onion, and ginger into the deglazed pan. Set the oven to 'grill' and place roasting pan with the aromatics underneath. Grill for 5 minutes, or until the skin begins to char, and the flesh is slightly softened.
4. Peel any blackened skin off of the aromatics and discard. Add the ginger, onions, and garlic to the slow cooker. Repeat the deglazing process with another cup of water and pour the liquid into the slow cooker as well.
5. Add the wholes spices to the slow cooker, followed by the fish sauce, brown sugar, and the salt. Pour water into the slow cooker until contents are covered. Cook on low for a minimum of 8 h, or preferably, up to 24 h.
6. Place a colander over a clean soup pot. Using a spider, or a slotted spoon, transfer the larger chunks of food from the pot into the colander to strain, then discard. Rinse out your colander and return to the pot. Stain the soup through the colander. Then, use a fine mesh colander to strain the soup again to remove impurities.
7. Optional: Place the soup into a container and refrigerate it for 12-24 hours. During this time the fat will rise to the surface of the container and solidify. Once it has, take a large spoon and scrape off the layer of solidified fat and discard.
8. When you're to serve, bring the broth to a rapid boil over high heat in a stock pot. While you're waiting for your broth to come to a boil, prepare and plate your condiments, then set aside.
9. Bring pho to a boil in a sauce pan, then add shrimp/beef/chicken. Allow the shrimp to cook in the broth until warmed through (if using frozen and pre-cooked).
10. Meanwhile, in a separate pan, cook rice noodles according to packet instructions. Transfer the softened noodles to serving bowls and pour soup on top.
11. Customize your pho with the condiments as desired.
12. Notes: I added soy sauce, fish sauce, spring onions, lime juice and Sriracha to my pho last time.
main courses, dinner, oven, shrimp, slow cooker, pho August 09, 2018 16:39
Author Adapted from Sense & Edibility
Share the recipe with your friends
No one has liked this recipe.
0 comments