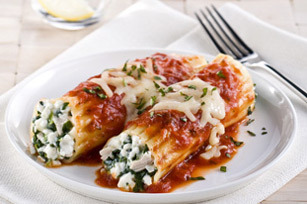 Ingredients
10 pcs manicotti pasta, cooked and drained
1 tbsp shredded parmesan cheese
16 ozs low-fat spaghetti sauce
1 tsp salt
10 ozs frozen spinach,
thawed and drained 1/4 tsp garlic powder
7 ozs fat-free cottage cheese
4 ozs shredded mozzarella cheese
1/4 cup egg whites, slightly beaten
Prep. Time → 10 min
Cook Time → 30 min
1. Preheat oven to 400. In a 11" x 7" dish, spread 3/4 cup sauce evenly onto bottom; set aside. In a mixing bowl, combine spinach, cottage cheese, egg whites, Parmesan cheese, salt, and garlic powder. Mix well.
2. Stuff each cooked manicotti shell with heaping 1/4 cup spinach mixture. Arrange pasta over sauce in dish.
3. Spread remaining sauce over pasta. Bake, covered, for 20 minutes, or until bubbling. Sprinkle with mozzarella. Bake, uncovered, for 7 more minutes, or until cheese has melted.
main courses, cheese, healthy, italian, low fat, weight watchers, manicotti, points plus, low carb May 17, 2011 13:17