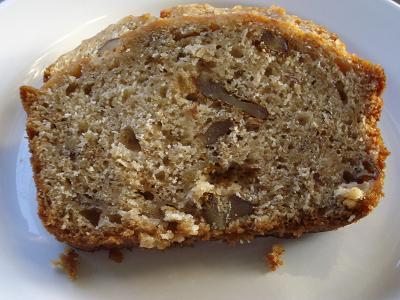 2 cups (300g) self-raising flour
1 tsp bicarbonate of soda
Pinch of salt
1 tsp ground cinnamon
1 tsp mixed spice (optional)
1/2 cup (110g) caster sugar
3/4 cup (125g) sultanas
2 eggs, lightly beaten
1 cup (250ml) reduced fat milk
1.5 cup mashed banana (about 3 large ripe bananas)
T. Preparacion → 20 min
T. Cocinado → 40 min
1. Preheat oven to 170°C. Line the base and sides of a 23cm x 13cm loaf pan with non-stick baking paper.
2. Sift flour, bicarbonate of soda, salt and cinnamon into a large bowl. Stir in sugar and sultanas.
3. Combine eggs, milk and bananas in a large jug. Whisk with a fork, until well combined. Using a large metal spoon, stir egg mixture into dry ingredients, until well combined.
4. Pour mixture into prepared loaf pan. Bake for 40 minutes, or until a skewer inserted in the centre comes out clean. I usually make sure it's only JUST cooked in the middle so it stays moist.
5. Cool in pan for 5-10 minutes. Turn onto a wire rack to cool completely. Slice and serve lightly buttered, or toasted.
postres, banana, bread August 11, 2011 01:58
Autor taste.com.au
Comparte la receta con tus amigos
A nadie le ha gustado esta receta.
0 comentarios