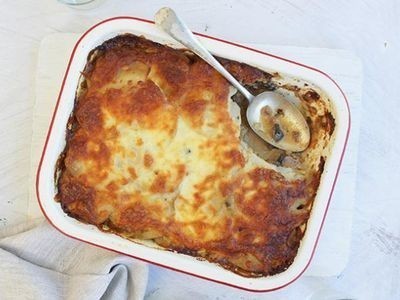 Ingredientes
para Serves 4
6 potatoes and some sweet potato peeled and sliced thinly
4 chicken thigh fillets cubed (or roasted chook from supermarket)
1 tsp all purpose seasoning
1 onion chopped
4 bacon rashers chopped
8 button mushrooms
2 cloves garlic
300mls cream
1 cup grated cheese
Paprika
Packet of potato crisps.
T. Preparacion → 30 min
T. Cocinado → 110 min
2. Spray a rectangular or square casserole dish with oil spray
3. Layer half of the sliced potatoes and sweet potatoes in the dish. Sprinkle with a little salt & pepper.
4. Fry the chicken in a little oil in a frying pan until golden brown, and sprinkle with the seasoning.
5. Place chicken on top of the potatoes. Sprinkle grated cheese, salt & pepper.
6. Fry onion, bacon, mushrooms and garlic in the same pan for a few minutes.
7. Place on top of the chicken in the casserole dish.
8. Top with the remaining potatoes and sweet potatoes and pour cream over. Sprinkle grated cheese and paprika and crushed potato chips on top.
9. Bake for 1 hour, sprinkle with cheese and bake for a further 30 minutes. Cover with foil if browning too quickly.
segundos, chicken, lasagne, sweet potato August 06, 2017 02:54
Autor BestRecipes.com.au (Judy 1953)
Comparte la receta con tus amigos
A nadie le ha gustado esta receta.
0 comentarios