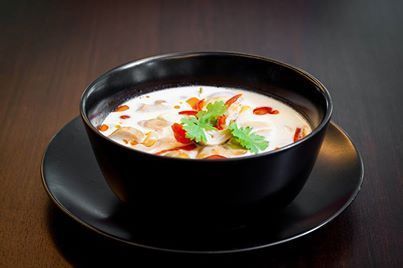 Ingredientes
para Serves 8 (Starter)
- 1 stalk fresh lemongrass (or 3 tsp lemongrass paste)
- 1 clove garlic (or 1 tsp minced garlic)
- 500g chicken breast fillets
- 1L (4 cups) chicken stock
- 2 stems spring onion, sliced roughly
- 1 large red chilli or 3 birdseye chillies, finely chopped
- 400mL (1 can) coconut cream
- a pinch of salt
- a dash of pepper
- 1 Tbsp finely grated lime rind
- juice of 1 lime (about 2 Tbsp)
- 1 tsp caster sugar
- 2 tsp fish sauce
- fresh basil or parsley leaves, kaffir lime leaves (optional)
T. Preparacion → 10 min
T. Cocinado → 15-25 min
1. Step 1. Prepare all your ingredients. Mince the lemongrass with the garlic in a food processor (unless using minced) to form a paste and set aside.
2. Step 2. Slice the chicken breasts into thin strips about 3cm long and 0.5cm narrow. Place in a separate bowl and set aside.
3. Step 3. In a large saucepan, on low-medium heat - bring the chicken stock to a simmer and then add the lemongrass mixture, the spring onions, the chilli, lime rind and the sugar. Stir occasionally once added and bring to a medium heat. Let boil for about 5 minutes.
4. Step 4. Bring the heat back to a low simmer and add the chicken and the coconut cream. Leave it on a simmer, stirring until the chicken is cooked then add the fish sauce and the lime juice.
5. Step 5. Turn off the heat and allow the flavours to develop, tasting along the way and add salt and/or pepper to taste.
6. Step 6. Ladle into bowls and serve hot. Garnish with kaffir lime leaves, fresh basil or parsley leaves if you like.
7. Note - for those who are intolerant or dislike chilli, you may want to omit these from the recipe.
primeros, thai cooking, chicken, chilli, lime, soup, asian cuisine, coconut cream April 13, 2014 14:23
Autor slightly modified from: taste.com.au/recipes/26251...
Comparte la receta con tus amigos
A nadie le ha gustado esta receta.
0 comentarios