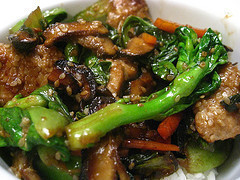 Ingredientes
para 4 people
500g chick thigh fillets cut into strips
1 1/2 tablespoons cornflour
2 tablespoons vegetable oil
1 Spanish onion, cut into wedges
2 cloves garlic crushed
1 teaspoon fresh grated ginger
350g baby bok choy, broken into leaves
100g oyster mushrooms, halved if large
230g can bamboo shoots
1/2 cup roasted cashews
1/2 Ayam Plum sauce
1 cup chicken stock
T. Preparacion → 15 min
T. Cocinado → 10 min
1. Combine the chicken and cornflour. Heat half the oil in a wok or frying pan.
Add half the chicken and stir fry over high heat for 1 minute or until browned, remove. Repeat with the remaining chicken.
Heat the remaining oil, add the onion and stir fry for 1 minute.
Add the garlic and ginger and stir fry for a few seconds. Return the chicken to the wok with the bok choy, mushrooms, bamboo shoots, cashews, plum sauce, soy sauce and stock and stir fry for 30 seconds or until the vegetables are tender and sauce thickened.
segundos, chicken, stir-fry, wok, plum sauce September 04, 2011 03:00
Autor Ayam sauce bottle
Comparte la receta con tus amigos
A nadie le ha gustado esta receta.
0 comentarios