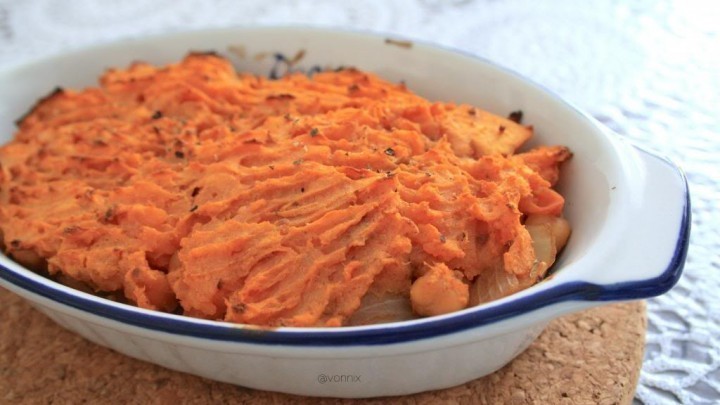 Ingredientes
1/3 cup cooked chickpeas
1 teaspoon coconut oil
1 teaspoon minced garlic
1/2 small onion, diced
1/2 cup vegetable stock or water
1 tablespoon Natvia tomato sauce or tomato paste
1 tablespoon Fountain barbecue sauce sweetened with Natvia
1 dried bay leaf
1/2 teaspoon dried thyme
1/3 cup cooked and mashed sweet potato
2 teaspoon unsweetened almond milk
salt and papper, to taste
1. Heat coconut oil in a skillet over medium-high heat. Saute garlic and onion until lightly so coloured and add chickpeas.
Once chickpeas are heated through, reduced heat to medium-low then add stock, tomato sauce, barbeque sauce, bay leaf, thyme and seasonings
Allow chickpeas to cook until most of the stock has evaporated and sauce has started to form. Remove from heat and set aside.
Preheat oven to 190℃ in a small bowl, combine sweet potao, almond milk and seasonings to taste. Remove bay leaf from chickpeas and pour filling into a small baking dish. Cover the top with sweet potato. Bake for 15 minutes, or until the topping is crispy and golden.
guarniciones, natvia only, sugar free, vegetarian April 10, 2015 15:27
Autor Vonnix from vonnix.tumblr.com
Comparte la receta con tus amigos
A nadie le ha gustado esta receta.
0 comentarios