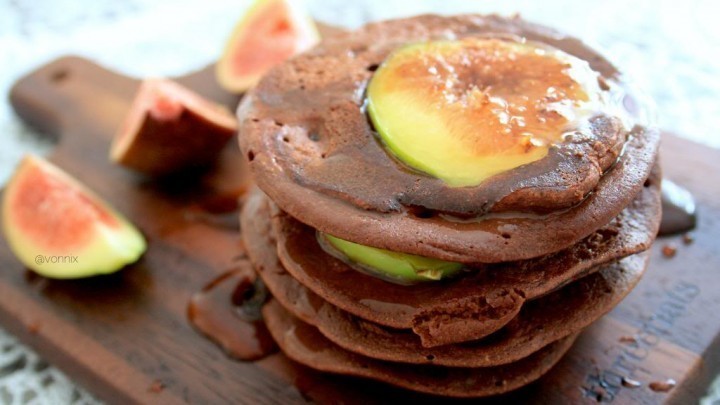 Ingredientes
para 1 people
1 tablespoon oat flour
1 1/2 tablespoons coconut flour
1 1/2 tablespoons Natvia
2 tablespoons cacao powder
1/4 teaspoon baking powder
pinch of salt
1/4 cup egg whites
3 tablespoons almond milk
1 tablespoon non fat Greek yogurt
1/2 teaspoon vanilla essence
2 small figs, sliced
1. Sift together oat flour, coconut flour, Natvia, cacao powder, baking powder and salt. Add in wet ingredients and mix well .
Allow batter to rest for 10 minutes. Spray non stick pan with coconut oil and heat over medium heat. Spoon in 2 to 3 tablespoon of pancake batter, depending on the size you want.
When bubbles begin to form on the surface, place a few fig slices on top and flip pancake Allow pancake to cook until just set and remove from heat.
You dont want the figs to burn so be sure to not leave it too long. Repeat with the remaining batter and serve immediately with a good drizzle of maple syrup.
segundos, breakfast, natvia only, sugar free, vegetarian April 15, 2015 05:17
Autor Vonnix from vonnix.tumblr.com