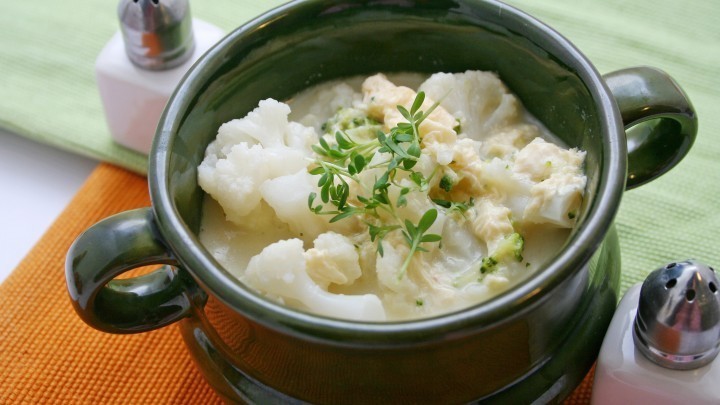 200-300g cauliflower and stems, roughly chopped
150g potato, peeled and roughly chopped
½ leek, roughly chopped
½ onion, roughly chopped
120g grated Vintage club cheese (light or regular)
4 teaspoons Natvia
salt and cracked black pepper for taste
optional ½ or 1 tablespoon olive or sunflower oil
extra cream or milk/non-dairy alternative/water as preferred
corn flour , if required
T. Preparacion → 10 min
T. Cocinado → 10 min
1. Steam all vegetables until just soft. Retain any cooking liquid.
Transfer to food processor and roughly puree with cheese, Natvia, salt, pepper and oil, adding extra cream or milk/non-dairy equivalent as required.
It should be a thick chunky soup. If too runny, thicken as follows. Make a small amount of paste using cornflour and cold water. Put "too runny" soup in pot and gradually bring to boil then reduce heat. Do not continue to cook the soup after a minute. Boiling for more than a minute will begin to break down the thickening properties, but if you don't bring it to a thorough boil, cornflour retains a starchy taste. An easier way to thicken is simply to add a tablespoon or two of Original Unflavoured Vital Protein (Pea Protein isolate).
Leave to cool before transferring to fridge, or serve immediately.
guarniciones, vegetarian April 05, 2015 05:21
Autor Natvia
Comparte la receta con tus amigos
A nadie le ha gustado esta receta.
0 comentarios