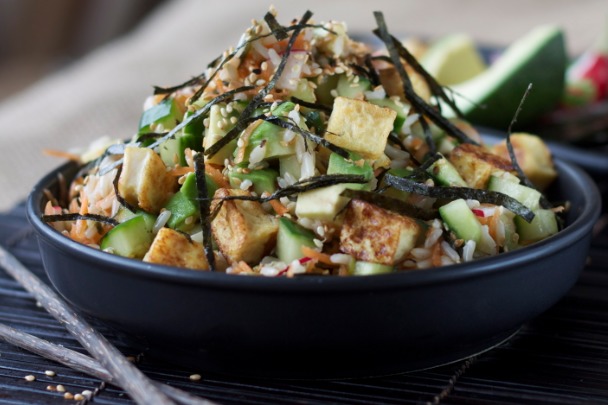 Ingredientes
para 2 people
1 tablespoon (5g) wakame seaweed
¼ cup brown rice, rinsed
1½ tablespoon of rice wine vinegar
2 teaspoons Natvia
½ teaspoon salt
150g firm tofu, diced
1 small cucumber, de-seeded and diced
½ cup (60g) carrot, grated
3 radish, finely sliced and cut in quarters
½ avocado, diced
1 tablespoon (20g) pickled ginger
1 spring onion, chopped finely
2 teaspoons sesame seeds, toasted
1 sheet of nori seaweed, thinly sliced
Dressing
1-1½ teaspoons wasabi paste
1 tablespoon water
1 tablespoon soy sauce (tamari for gluten free)
1. To make the dressing mix together ingredients and set aside.
Soak wakame in luke warm water for 10 minutes, drain and blanch in hot water, then refresh in cold water to improve the colour. Dry in a clean tea towel or paper towel, then chop.
Cook rice to your liking
Heat vinegar, Natvia and salt in a small saucepan until sugar is dissolved and pour over rice. Stir through, then set aside to cool.
Dice tofu into 2cm pieces, spray with oil and grill in a fry pan or sandwich toaster until golden.
Toss rice with wakame, tofu, cucumber, carrot, radish, avocado, ginger, spring onion, dressing and top with sesame seeds and nori strips to serve.
guarniciones, natvia April 10, 2015 14:18
Autor Weigh It Up
Comparte la receta con tus amigos
A nadie le ha gustado esta receta.
0 comentarios