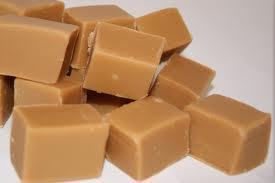 Ingredientes
para 36 pieces.
1lb (450g) granulated or caster sugar,
3oz (25g) butter,
1/4 pt (150ml) milk,
6 oz (175g) condensed or evaporated milk,
A few drops of vanilla extract,
A little vegetable oli.
T. Preparacion → 30 -50 min
1. Put the sugar, butter, milk, and condensed milk into a big heavy based pan and heat gently, stirring all the time until the sugar and butter has dissolved.
2. Bring the mixture to the boil stirring occasionally (so the mixture doesn't burn), let the mixture boil until it reaches 240F
3. Add the vanilla extract and beat the mixture with a wooden spoon for at least 7 or 8 minutes (it should be a lot thicker now).
4. Pour into a 19cm tin brushed with a little vegetable oil and smooth down. Leave the fudge to set for 10-15 mins it will set quicker in the fridge. Remember to mark the fudge into blocks the size and shape you want.
postres November 07, 2011 21:00
Autor Recipe finder