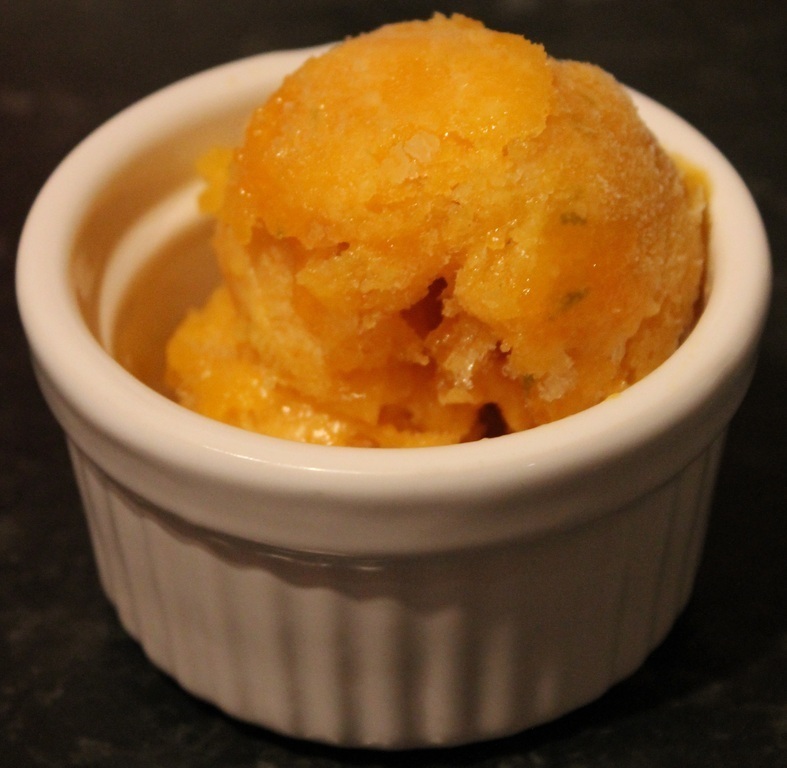 Ingredientes
para Serves 8
- sugar syrup
- 1 1/2 cups water, 2 cups caster sugar
- finely grated rind of 4 limes
- 1/4 cup lime juice
- 4 mangoes, peeled, seeded and cubed
- 3 Tbsp coconut cream
- 1/2 cup crushed ice
- yellow food colouring (optional)
T. Preparacion → 10 min
T. Cocinado → 120-180 min
1. Step 1. Create the sugar syrup - place the water and sugar along with the lime rind in a medium saucepan and heat gently, stirring constantly until the sugar is completely dissolved. When the mixture starts to thicken, remove it from heat, stir in the coconut cream, cover and place in the fridge to cool.
2. Step 2. Place the mango cubes into a food processor and let it mix until it is a puree. Add the lime juice and let it mix thoroughly.
3. Step 3. Pour in the cooled sugar syrup/coconut cream mixture and mix evenly.
4. Step 4. Add the crushed ice into the food processor and process until ice is crushed and mixed through.
5. Step 5. Pour into a freezer-proof container and freeze for up to 2 or 3 hours.
6. Step 6. Remove from freezer and serve when ready.
7. Note - you may want to add a little yellow food colouring to achieve desired result.
postres, asian cuisine, dairy free, dessert, lime, mango, sorbet, thai cooking, lactose free, sugar syrup April 13, 2014 17:01
Autor adapted from pg 224 "Best Ever THAI" cookbook, publisher - LOVE FOOD, an imprint of Parragon Books
Comparte la receta con tus amigos
A nadie le ha gustado esta receta.
0 comentarios