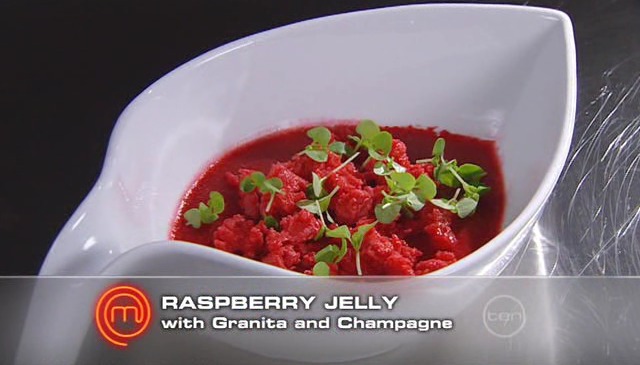 Ingredientes
para 2 people
200 ml apple juice
60 grams custard sugar
12 grams gelatin leaves
250 grams raspberries
T. Preparacion → 15 min
T. Cocinado → 90-100 min
1. First put 200 ml of apple juice in a pan.
2. Add the sugar and take it to the boiling point, but don't let it boil.
3. Dissolve the gelatin and put the berries in it.
4. Put everything in the blender till you get a smooth liquid.
5. Pass the mixture through a sieve.
6. Put the liquid in whatever you want to serve it and place it in the fridge for about an hour.
7. Place the remainder of the liquid in a tray and put it in the freezer till it hard.
8. After the raspberry jelly it hard, scrape the raspberry to create the granita.
9. Place it on top of the other raspberries and put some basil on it.
10. To finish it of pour some champagne over the desert.
postres, dessert, basil, raspberry, jelly, champagne, apple juice, sugar July 18, 2011 22:49
Autor Masterchef Australia - Season 2 - Episode 5