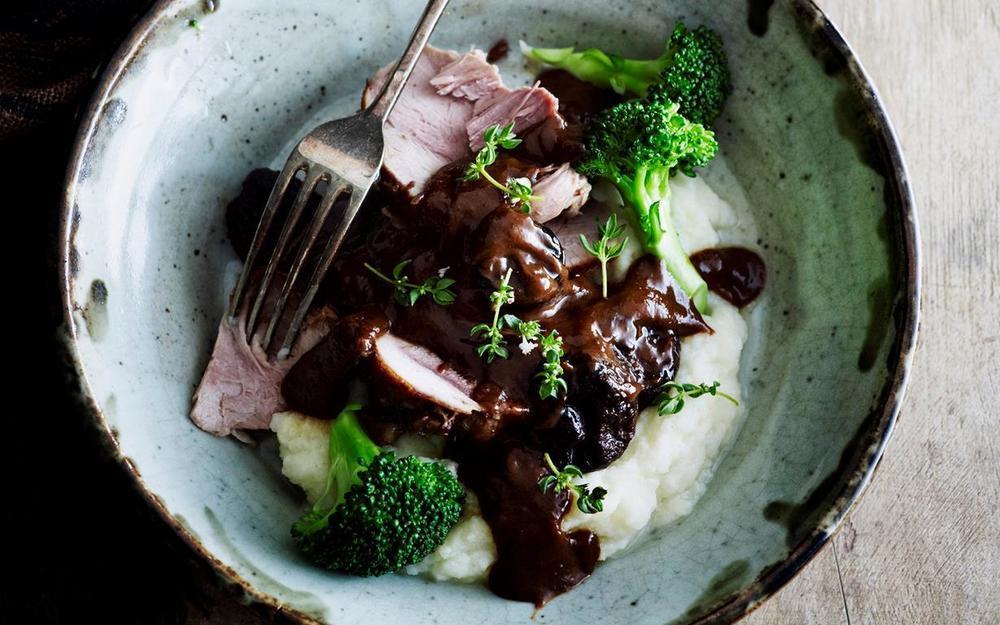 Ingredientes
para Serves 8
2kg boned pork shoulder
1 1/2 tablespoons olive oil
500g pitted prunes
2 medium brown onions chopped
3 sprigs fresh thyme
3 cloves garlic chopped finely
1/2 cup port
1/2 cup chicken stock
1/3 cup fresh thyme sprigs extra
T. Preparacion → 60 min
T. Cocinado → 480 min
1. Season pork generously with salt and pepper.
2. Heat 2 tablespoons of the oil in a large frying pan over medium high heat. Cook pork, turning until browned all over. Transfer to a slow cooker, top pork with prunes.
3. Heat remaining oil in same frying pan over medium heat, cook onion and thyme, stirring for 5 minutes or until onion softens.
4. Stir in garlic, cook for 1 minutes or until fragrant.
5. Add port and stock to the frying pan, stirring to combine, bring to the boil. Pour mixture over pork in cooker. Cook covered on low for 8 hours.
6. Carefully remove pork and half the prunes (preferably any whole ones) and cover to keep warm.
7. Strain cooking liquid into a large bowl, reserve solids but discard thyme. Blend or process solids until smooth. Stir pureed onion mixture into cooking liquid until sauce thickens (you may not need to use all the onion mixture).
8. Serve sliced pork with prunes, drizzle with sauce and top with extra thyme sprigs.
segundos, slow cooker, thyme, pork shoulder, prunes, port August 06, 2017 03:38
Autor 9781742456072 Women's Weekly Casseroles & Curries p.366
Comparte la receta con tus amigos
A nadie le ha gustado esta receta.
0 comentarios