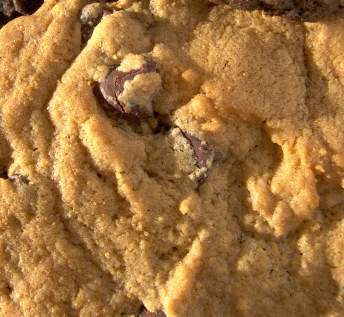 Ingredienti
per 24 large cookies
4 cups all-purpose flour
1 tsp. baking soda
1 tsp. salt
1 1/2 cups unsalted butter (melted)
2 cups brown sugar (firmly packed)
1 cup white sugar
2 tablespoons vanilla extract
2 eggs
2 egg yolks
3 1/2 cups semisweet chocolate chips or chunks
Preparazione → 20 min
Cottura → 15 min
1. Preheat oven to 325 F. Grease cookie sheets. Combine flour, baking soda and salt in one bowl. In another bowl, cream melted butter and both the brown sugar and white sugar until well blended. Beat in the vanilla, egg, and egg yolk until the consistency is light and creamy. Mix in the flour, baking soda and salt from the other bowl until blended. Stir in the chocolate chunks by hand. Drop 1/4 cup of dough onto the prepared cookie sheets. The cookies should be about 3 inches apart as they spread a bit. Bakefor 15 to 18 minutes at 325F or until golden brown. Let sit on baking sheets for a few minutes before transferring to wire racks to cool completely.
2. Notes: Lots of possible variations with this one. Substitute the semisweet chocolate chips with white chocolate chunks, peanut butter chips, milk chocolate chips or a mixture. You can also add whatever nuts you like. This recipe works best and has been tested with all these options but the best option is still the classic chocolate chips or preferrably chocolate chunks. Please enjoy the best huge chocolate chip cookie recipe!
dolci, chocolate, cookies, chocolate chip, chocolate chip cookie, cookie recipe April 11, 2011 00:17
Autore: cookie-recipes.net/best-ev...