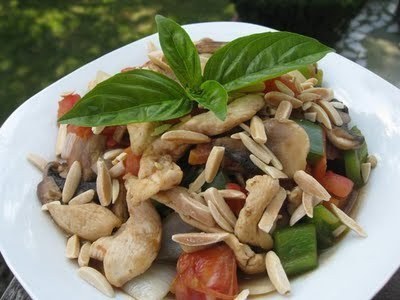 Ingredientes
para 4 people
700g chicken breast fillets, sliced thickly
2 cloves garlic, crushed
1/4 cup hoisin sauce
1/4 cup kecap manis
2 tablespoons peanut oil
1/2 cup blanched almonds
4 green onions sliced thinly
1 medium brown onion sliced thinly
420g fresh egg noodles
200g choy sum, chopped coarsely
1 cup chicken stock
T. Preparacion → 10 min
T. Cocinado → 10 min
1. Combine chicken, garlic, 2 tablespoons of the hoisin sauce and 1 tablespoon of the kecap manis in medium bowl
2. Heat 2 tablespoons of the oil in wok or large frying pan, stir fry almonds until browned. Remove from wok.
3. Heat remaining oil in wok, stir fry chicken mixture and onions, in batches, until chick is browned.
4. Place noodles in large heatproof bowl, cover with boiling water stand 5 minutes or until just tender, drain.
5. Return chicken to wok with almonds, noodles, choy sum, stock and remaining hoisin sauce and kecap manis, stir fry until choy sum is just wilted.
segundos, chicken, almond, egg noodles, wok May 30, 2011 09:55
Autor Womens Weekly 50 Fast Chicken Fillets
Comparte la receta con tus amigos
A nadie le ha gustado esta receta.
0 comentarios