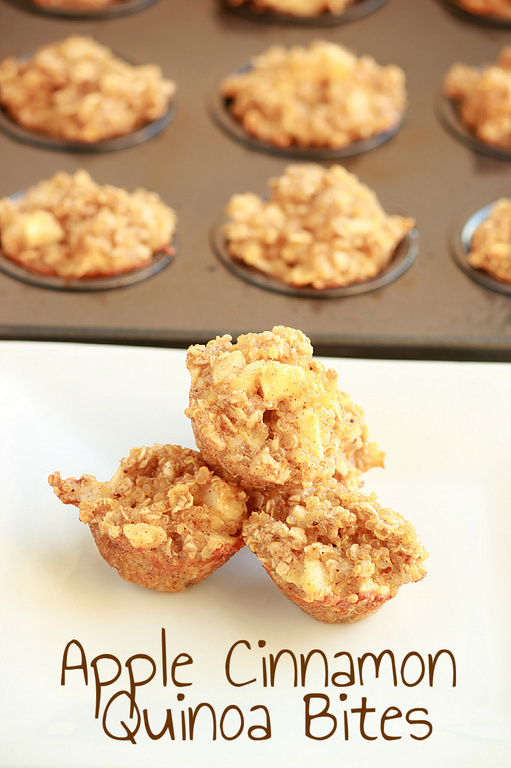 Ingredientes
para 26 bites
1 cup cooked quinoa
1 cup quick oats
1/2 teaspoon cinnamon
1/2 teaspoon nutmeg
3 tablespoons brown sugar
1 tablespoon granulated sugar
1 tablespoon maple syrup
1 cup chopped apples (I used macintosh, but any type should work nicely)
2 eggs, lightly beaten
1. 1) Preheat oven to 350 degrees.
2. 2) In a large mixing bowl, add your cooked quinoa and quick oats. In a separate smaller mixing bowl, combine your cinnamon, nutmeg and sugars and then add the spice mixture to the quinoa and oats. Then add the maple syrup, apples and eggs and mix until just combined.
3. 3) Spray your mini muffin pan (24 count) with non-stick cooking spray. Make sure to spray the top of the pan as well. The quinoa bites will overflow out of the cup a little bit, so you don't want the tops to stick.
4. 4) Fill each muffin slot with 1 tablespoon of the mixture and bake for about 15-20 minutes. Serve warm!
5. ::Nutritional Information Per Bite::
6. Calories - 38
Fat - 0.7 grams
Protein - 1.2 grams
Fiber - 0.6 grams
Carbohydrates - 6.25 grams
Weight Watchers Points - 1 point per bite
7. © And They Cooked Happily Ever After
primeros, quinoa, breakfast, cinnamon, snacks, bites February 02, 2014 08:09
Autor andtheycookedhappilyeveraf...
Comparte la receta con tus amigos
A nadie le ha gustado esta receta.
0 comentarios