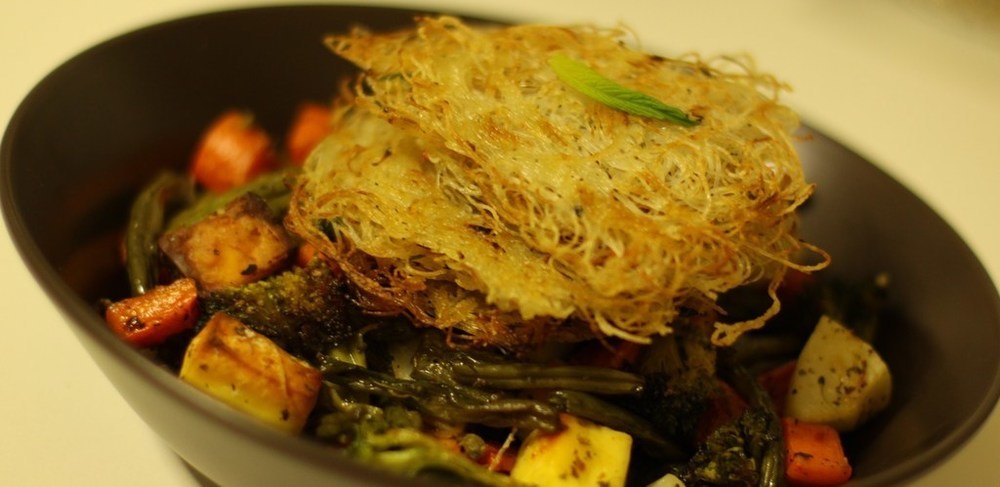 Ingredientes
para 10 nos.
50 gm Rice Vermicelli
2 tsp Finely chopped coriander
2 tsp Shredded Onion
1/4 tsp Black pepper powder
Salt, to taste
Oil, to shallow-fry
T. Preparacion → 5 min
T. Cocinado → 15 min
1. Place rice vermicelli in a bowl of boiling water and cover it for 3-4 mins.
2. Drain excess water, pat dry with paper towel and transfer it to a big bowl.
3. Add rest of all ingredients into it and mix well.
4. Heat 2 tsp oil in a heavy-bottom pan and shallow-fry 2-3 pancakes at a time.
5. Press gently with a flat spatula and cook them till golden-brown and crisp on both sides.
6. Follow the same process for all the pancakes.
7. Place Smoky Veggies in a serving plate and serve these pancakes on top of it.
guarniciones, asian, noodles, pancakes, vegetarian June 25, 2013 05:16
Autor SJ
Comparte la receta con tus amigos
A nadie le ha gustado esta receta.
0 comentarios