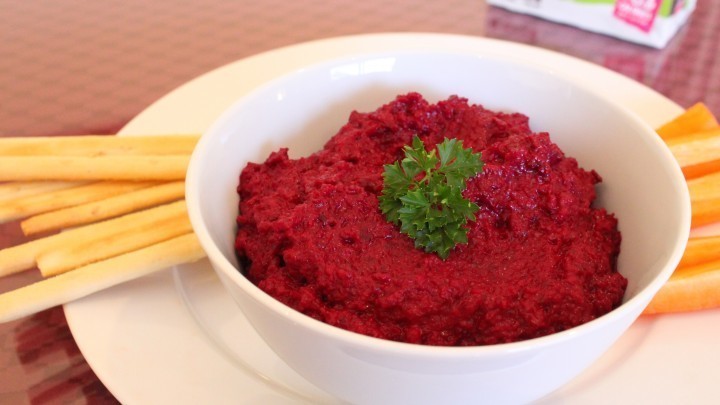 Ingredientes
para 1 Kg of dip
5 medium-sized beetroot
1 cup plain yoghurt
3 tablespoon Natvia
2 tablespoon vinegar
2 tablespoon tahini (sesame paste)
1 teaspoon horseradish
1 teaspoon ground cumin
1/2 teaspoon salt
1/2 teaspoon ground coriander
1/2 teaspoon paprika
Olive oil (optional)
T. Preparacion → 30 min
T. Cocinado → 20 min
1. Strain the yoghurt overnight. This can be done by placing a cloth filter (e.g. cheesecloth) over a large tub, tightening in place with a rubber band (leaving a gap between the cloth and the bottom of the tub). Place the yoghurt in the filter and cover with the tub lid.
Trim and peel beetroot. Cut into quarters and steam until tender (about 15min). Allow to cool completely.
Chop the beetroot coarsely using a blender or food processor.
Mix in all remaining ingredients including the yoghurt. Adjust sweetness and vinegar according to taste, and add olive oil to adjust consistency. Store in fridge for up to a week.
Tips and Tricks
Straining the yoghurt overnight produces a nice thick dip.
postres, entr, natvia only, sauces, snacks, sugar free, vegetarian March 08, 2015 05:16
Autor Rita N
Comparte la receta con tus amigos
A nadie le ha gustado esta receta.
0 comentarios