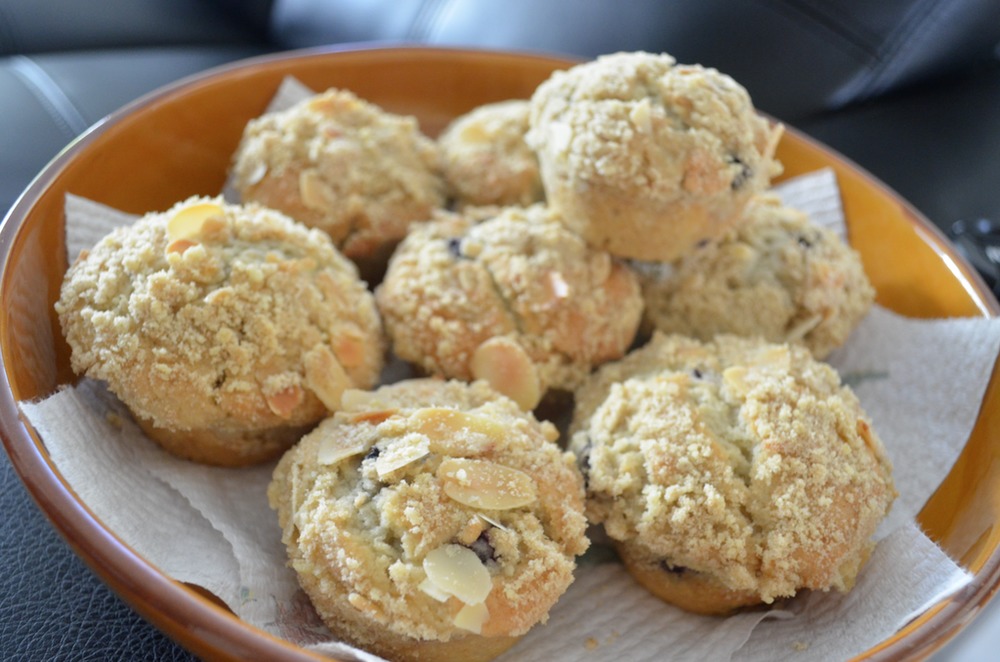 Crumble Topping
• 50g [1/2 cup] plain flour
• 50g chilled butter, chopped
• 50g [1/2 cup, firmly packed] brown sugar
• 30g flaked almonds
• blueberries to decorate [1 to top each muffin]
Mix Ingredients
• 300g (2 cups) self-raising flour
• 155g (3/4 cup) caster sugar
• 35g (1/3 cup) desiccated coconut
• 125g butter, melted
• 125ml (1/2 cup) buttermilk
• 2 eggs, lightly whisked
• 125g punnet blueberries
T. Preparacion → 15 min
T. Cocinado → 25 min
1. Preheat oven to 180°C. Brush ten or twelve 150ml-capacity muffin pans with melted butter to lightly grease.
2. To make the crumble topping, place the flour in a bowl. Use your fingertips to rub the butter into the flour until the mixture resembles coarse breadcrumbs. Stir in the sugar and almonds. Set aside.
3. To make the muffin mix, combine the flour, sugar and coconut in a bowl. Add the butter, buttermilk and egg, and stir until combined. Stir in the blueberries.
4. Spoon the mixture evenly among the prepared pans. Lightly press a couple of blueberries in the centre of each and
cover with the crumble mixture.
5. Bake for 25 minutes or until a skewer inserted into the centres comes out clean. Set aside in the pans for 15 minutes to cool slightly before turning onto a wire rack to cool completely.
6. Enjoy with a cup of tea or coffee!
postres, almond, blueberry, coconut, muffins March 07, 2012 21:58
Comparte la receta con tus amigos
A nadie le ha gustado esta receta.
0 comentarios