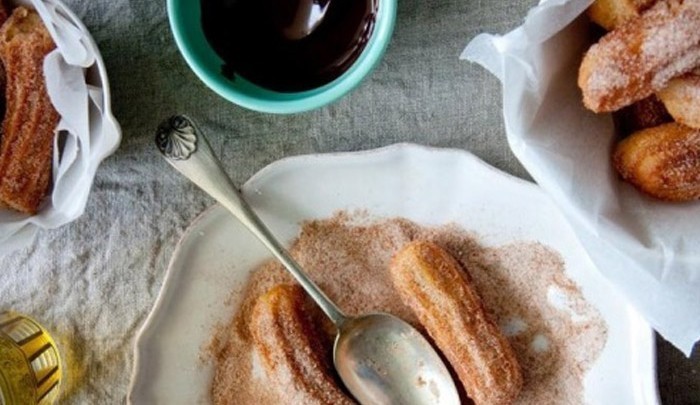 Ingredientes
para 30 pieces
100gm dark chocolate
25gm milk chocolate
15ml golden syrup
150ml double cream
½ cup Natvia
2 teaspoons cinnamon powder
125grm Vitarium Gluten-free plain flour
1 teaspoon baking powder
250ml boiled water
15ml olive oil
1ml canola oil for frying
T. Preparacion → 20 min
T. Cocinado → 50 min
1. Chocolate sauce
Melt all the chocolate, golden syrup, double cream in a heavy-based saucepan, really gently, and once the chocolate starts to melt, stir everything together, take off the heat and leave in a warm place.
Natvia coating
Mix the Natvia and cinnamon powder in a wide, shallow dish (this is for shaking the cooked churros about in, to coat them later)
Making the churros
Combine flour and baking powder, mix well.
Add in the oil, and freshly boiled water, mix until you have a sticky dough, let it rest for 10 minutes.
In the meantime, heat the oil in a small saucepan (the oil should be around one-third of the way up the sides of the pan). The temperature should be around 170 degress Celcius.
Load up a pipping bag with a large star-shaped nozzle and fill with the churros dough.
Squeeze short lengths of dough about 5-6cm into the hot oil, and snip off the churros with a pair of scissors.
Cook the churros in batches about 3-4 at a time, until they are golden, dry them in paper towel.
Just before serving, toss all churros in the Natvia and cinnamon mixture and shake them well.
Serve and happy dunking in those yummy chocolate sauce!
Tips and Tricks
Can be served with chocolate or strawberry sauce, or even by itself with Natvia and cinnamon! Yum!
postres, baking, dessert, snacks March 30, 2015 17:08
Autor Vanna B from NSW
Comparte la receta con tus amigos
A nadie le ha gustado esta receta.
0 comentarios