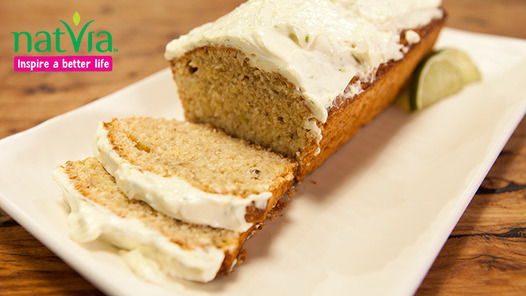 Ingredientes
para 12 pieces
1½ cups self-raising wholemeal flour
3/4 cup Natvia
½ cup desiccated coconut
2 ripe bananas, mashed
1 lime zested and juiced
2 eggs
½ cup olive oil
Icing
125g light cream cheese
1 lime, zested and juiced
2 tablespoons Natvia
T. Preparacion → 20 min
T. Cocinado → 25 min
1. Preheat oven to 175C.
Line a loaf tin with baking paper.
Place flour, Natvia and coconut in a large bowl and stir to combine well.
In a small bowl, mash bananas with lime zest and juice.
In a separate bowl whisk together the eggs and olive oil.
Make a well in flour and pour in banana and egg mixture.
Mix till just combined.
Pour into prepared tin and bake for 20 - 25 minutes.
Remove from oven and cool on a wire rack.For the icing, place all ingredients in a food processor and blend till smooth.
Spoon the cream cheese icing over the cake, evenly.
Served with a lovely cup of herbal or regular tea.
postres, baking, natvia only, sugar free, vegetarian April 05, 2015 05:26
Autor Good Chef Bad Chef
Comparte la receta con tus amigos
A nadie le ha gustado esta receta.
0 comentarios